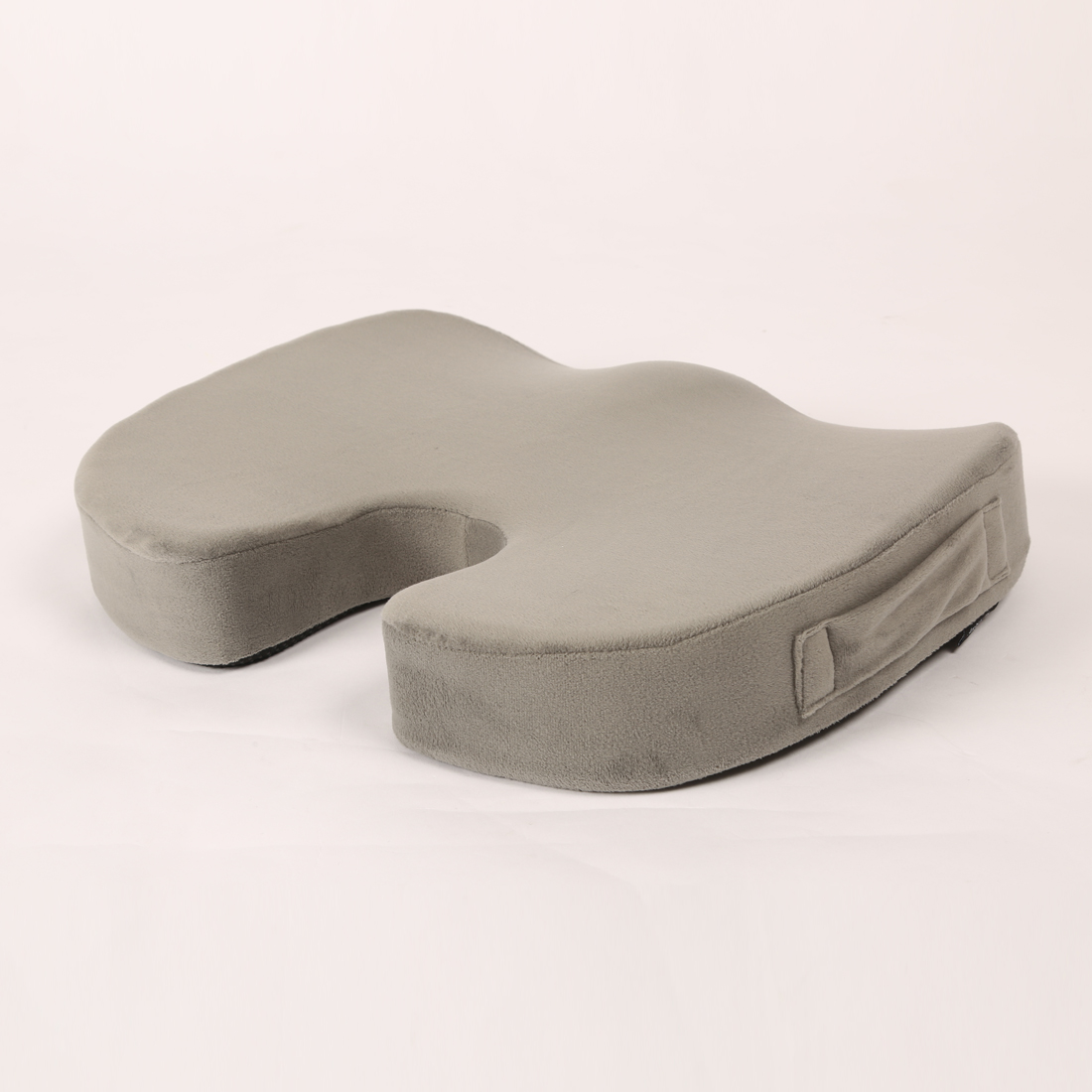 You don't need a new chair, but you need one Yeslife Memory Foam Coccyx Cushion!

The Yeslife Comfort Luxury Coccyx Orthopedic Memory Foam Seat Cushions are Made of 100% Pure Memory Foam, Designed with U-shape Cut Out to Relieve Lower Back, Sciatica, Herniated Discs, Hip, Tailbone, Hemorrhoids, Pregnancy Back Pain and Other Spinal Pain.
Can Help Relieve Pain From:
- Back Pain & Sciatica
- Hip
- Coccyx / Tailbone
- Sitting long hours
- Spinal Alignment
- Herniated Discs
- Hemorrhoids
- Pregnancy
- Piriformis Syndrome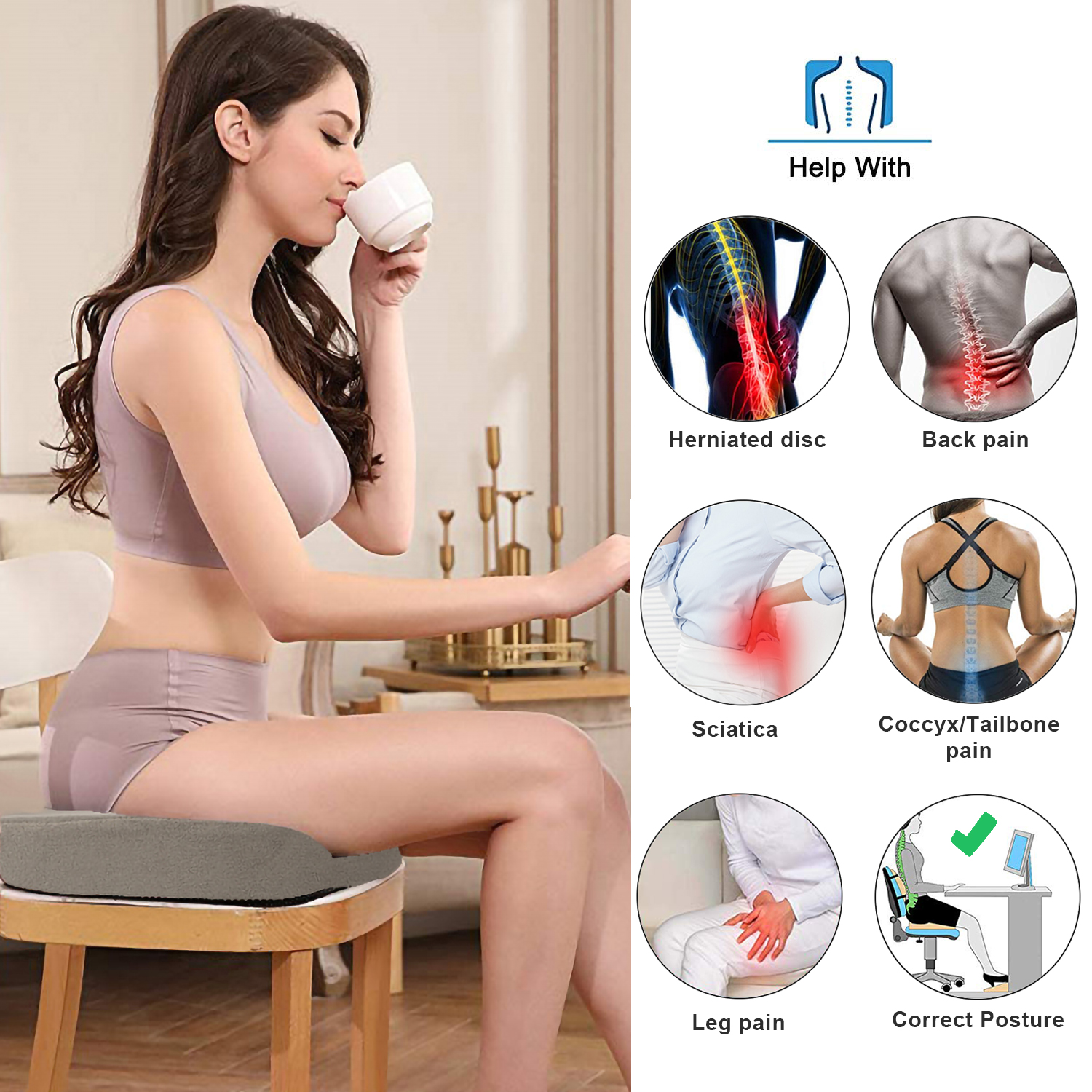 To Make Your Life More Fabulous:
You can use it at home, it just fit for every chair and much better than any chair, or just use on the floor, playing with you kids or doing Yoga.
Or using it in office, where we sitting 8-10 hours per day.
Or using it in the car, it will make you love driving again and enjoy your trip.
Or using it while travelling, reducing discomfort caused by strange seats.
Or using it after Haemorrhoid surgery, must have it!
Or use it as a seat riser, lift cushion and donut pillows.
Or using it anywhere you want, and now just add it into your Cart!

Important Product Information:
MEMORY FOAM IS HEAT & WEIGHT RESPONSIVE: Firmness for all memory foam products changes with temperature. Your cushion will feel softer in warm and firmer in cold temperatures. Room temperature is ideal for optimal performance.
100% Refund Guarantee: We guarantee that 100% full refund if you are not satisfied with our Yeslife Coccyx Cushion. You may feel too firm or too soft while your first sitting down on it, but after one or two days your butt will fit in it perfectly, you will love it definitely.
How Will My Order Ship?
We will ship your order using the fastest, safest, and most reliable method possible. Therefore, we have established strong relationships with some of the best delivery companies nationwide. Every product on our site has been carefully selected to ship by a particular shipping method in order to provide you with an optimal delivery experience. When your order ships, we will notify you via email. Tracking Number can be found on the custom interface, We encourage you to track your package online or on the phone with the carrier. Most companies can provide an estimated delivery date. Be sure to contact us if anything seems unusual with the progress of the shipment. Please note we cannot ship to P.O. Boxes or Military APOs.
What is the return policy?
Returning merchandise is always inconvenient, expensive and no fun for any party involved. That is why we are trying to avoid returns by making sure our customers understand what they are ordering right from the beginning.
Please read item descriptions, supporting information and FAQ carefully. We offer unique products and try to provide our customers with most detailed description possible upfront. Please take advantage of our product sample programs.
Please visit http://www.art3d.com/return-policy/ for detail.
What is the payment method?
We accept PayPal payment. Supports Visa, Master card, American Express, Discover and more, it is the faster, safer way to pay.
Other than Paypal payment, we also accept TT transfer, West Union Transfer, Alipay and Wechat transfer, please contact us if needed.