Product Parameter
| | |
| --- | --- |
| Design Code: | A16011 |
| Brand: | Art3D |
| Size of Tile: | 300 * 300mm (12" X 12") |
| Thickness: | Around 4 mm (0.15") |
| Principal Ingredients: | Aluminum sandwich plate with self adhesive back |
| Nominal Finish: | Blushed metal aluminum surface |
| Gross Weight: | 4.5 Kgs |
| Standard Packaging: | Carton box package |
| Customization: | Available for order over 200 square meter |
| Notes: | Patterns, photos and drawings are for illustration purposes only. Final production may vary. |
Product Features
Easy DIY peel & stick metal mosaic is made of an adhesive substrate topped with an aluminum composite panel, which is leading a new revolution of wall decoration. The tiles are thin and light, they can be installed in minutes over a clean and sleek surface without any mess or specialized tools, and never crack with time. Peel & stick metal mosaic is also an elegant and affordable wall covering material, if you are getting tiled of the same design, just peel them off and change a new style. Art3dTM mosaic sticker offers veracious collections to meet you different taste. Peel & stick metal mosaic is lightweight, easy to handle, cut and maintain, they will remain on your walls for as long as you wish them to be. The tiles can also be easily installed directly over existing panels or smooth surface. Especially designed for kitchen sink, kitchen backsplashes and bathroom backsplashes, the tiles are resistant to the heat of stove tops and the humidity of bathrooms (do not use in shower).
Premium quality, luxury and elegant design
Peel and stick installation, save money and labor
Do it yourself, no grout, no glue, no special tools and no mess
Easily installed directly over existing panels or smooth surface
Extremely suit for kitchen backsplashes and bathroom backsplashes
Fire resistant, easy clean and maintain
Guaranteed to stick to your walls
Installation
If cutting tiles, one of the following tools will be needed:
Jig saw or chop saw (recommended)
Hack saw
Hole saw or coping saw (for circular cuts or electrical outlet cutouts only)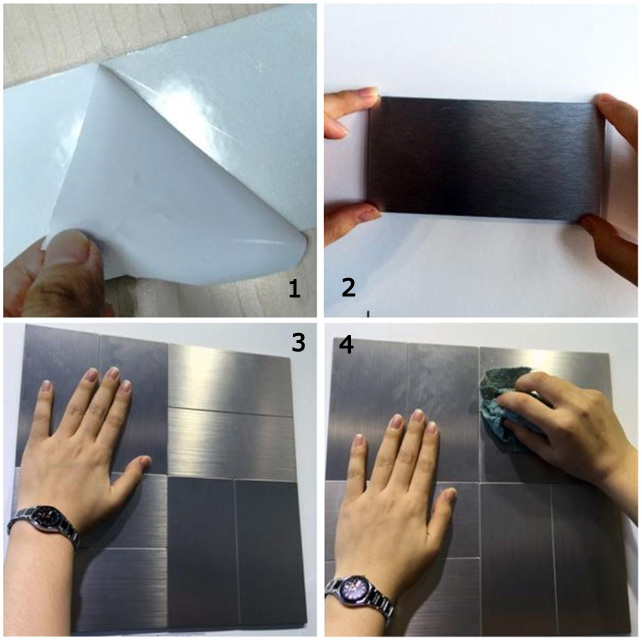 More detail please Click here >> Read Peel-and-Stick Metal Tile Installation Guide
Peel & Stick Metal Mosaic Application
Peel & stick metal mosaic is an ideal wall product that can be used in interior decoration, it can be used in wet environment such as bathroom and kitchen room, please note that it can't use in shower. Peel & stick metal mosaic is especially designed for kitchen backsplashes, kitchen sink and bathroom backsplashes, it can be stick on wall or remove easily. Other than that, Plastic mosaic wall tile can also use in glass door or screen decoration, or stick on cabinet door or furniture surfaces. Note: please note that we don't recommend to use peel and stick metal backsplash tiles in shower.
Customer Review
Contents: Love this!!!

@Jan 10, 2017 United States
Contents: Just as it looks, very nice

Patricia Ford @Nov 27, 2016 United States
Contents: I had looked at many different types of backsplashes for my kitchen renovation. This product by Art 3D worked very well for my application. Brushed 1 inch sections in the 12-inch by 12-inch sheets made installation and measurement very easy when trimming had to be done. Despite the recommendations of tools required for installation I found the easiest way 2 trimley styles was to place the sheet on a 1 by 3 piece of wood and use a hammer and heavy duty razor blade to cut edges when needed. This may have taken a little longer but left a very clean edge. Be careful to make sure that your walls are straight or do you not have any dips is this sheet will follow any Contour in your drywall. For finishing corners and edging on my granite backsplash I've used a piece of 3/16 inch stainless rod with silicone adhesive.

Lars the Forthright @Nov 18, 2016 United States
Contents: This product was just what I needed for my project. I cut 3" x 3" squares to use as accent for four corners of a mirror frame made of vinyl wood floor tile in our master bathroom.

TOM W. @Nov 16, 2016 United States
Contents: Got this for my RV backsplash. I'm pleased with it.

Grace Colette @Nov 14, 2016 United States
Contents: BEWARE the tile dimensions are not as advertised. The full tile sheet measures out to be just a hair over 11-13/16" x 11-13/16". So, for example, my measured space of exactly 30" wide features a lovely gap that's just over 1/4" (5/16" to be exact). While you can try to cut these tiles down to size the aluminium coating has a tendency to tear or peel away, so I didn't have much success with that. Upon receiving the tiles we also noticed a number of very noticeable scratches, despite the protective film. About 75% of the corner tiles on each sheet were also dented/damaged. Luckily we ordered an extra sheet so we could piece out the sheets to avoid the scratched tiles, but obviously not ideal and required more time. I would have requested replacement sheets, but based on the limited durability of the aluminium finish the same thing would have likely happened to the next batch. On the plus side the tiles are easy to apply and the adhesive appears to be doing a good job, for now. Once installed they look great, if you figure out how to deal with the unanticipated oddly sized sheet, before beginning the install.... and dodge the damaged tiles.

Jeramish @Nov 13, 2016 United States
Contents: We are using this product for our motorhome. Lightweight and looks beautiful. It's exactly as described.

@Oct 27, 2016 United States
Contents: These look super expensive, and I suppose they aren't cheap. The adhesive is extremely strong, so don't worry about needing glue or anything of that nature. Only one caveat, the adhesive is SO strong that the second you lay them down, they are going to stay there. Make sure you have one edge perfectly where it needs to go before you pat them down. If they are too large, they can be cut through or sawn, with any rough edges smoothed with a metal file. These look fantastic from afar when you havean undercounter light shining on them.

M. Evans @Oct 20, 2016 United States
Contents: Absolutely gorgeous and EASY to install

@Aug 27, 2016 United States
Contents: I originally returned the champagne color as it didn't match either the color posted on the website or the color of my granite. I had to pay return shipping so be sure what you want before you buy from them! On the good side, as soon as I provided the tracking number they shipped my replacement so I received it very quickly, yay! The tile is very nice and is easy to work with. I didn't have problems with gaps like some of the reviewers. We cut it to size with an exacto knife and used weldbond glue as the surface was less than optimal. So far so good...it's still up there and looks really nice. It does stick quickly so make sure you have it where you want it before pressing down.

abbysmom @Aug 13, 2016 United States
How Will My Order Ship?
We will ship your order using the fastest, safest, and most reliable method possible. Therefore, we have established strong relationships with some of the best delivery companies nationwide. Every product on our site has been carefully selected to ship by a particular shipping method in order to provide you with an optimal delivery experience. When your order ships, we will notify you via email. Tracking Number can be found on the custom interface, We encourage you to track your package online or on the phone with the carrier. Most companies can provide an estimated delivery date. Be sure to contact us if anything seems unusual with the progress of the shipment. Please note we cannot ship to P.O. Boxes or Military APOs.
What is the return policy?
Returning merchandise is always inconvenient, expensive and no fun for any party involved. That is why we are trying to avoid returns by making sure our customers understand what they are ordering right from the beginning.
Please read item descriptions, supporting information and FAQ carefully. We offer unique products and try to provide our customers with most detailed description possible upfront. Please take advantage of our product sample programs.
Please visit http://www.art3d.com/return-policy/ for detail.
What is the payment method?
We accept PayPal payment. Supports Visa, Master card, American Express, Discover and more, it is the faster, safer way to pay.
Other than Paypal payment, we also accept TT transfer, West Union Transfer, Alipay and Wechat transfer, please contact us if needed.