Each box contains 12 panels that can cover an area of 3 m² or 32 sq.ft. Fashionable glue on wall DIY diamond pattern wall panels manufacturer direct, cheap price and good quality, can be used in exterior wall covering and interior wall design.
Product Parameter
| | |
| --- | --- |
| Design code: | A10901P12 |
| Brand: | Art3D |
| Size: | 24"x24" |
| Embossed Thickness: | Around 25 mm (0.984") |
| Principal Ingredients: | PVC |
| Normally Finish: | Matt white |
| Weight: | 6 Kgs per box (±0.5 kgs) |
| Standard Packaging: | Carton box package, 12 sheets in one package |
| Pattern Type: | 4 sides repeatable |
| Customization: | Available for order over 200 square meter |
| Notes: | Patterns, photos and drawings are for illustration purposes only. Final production may vary. |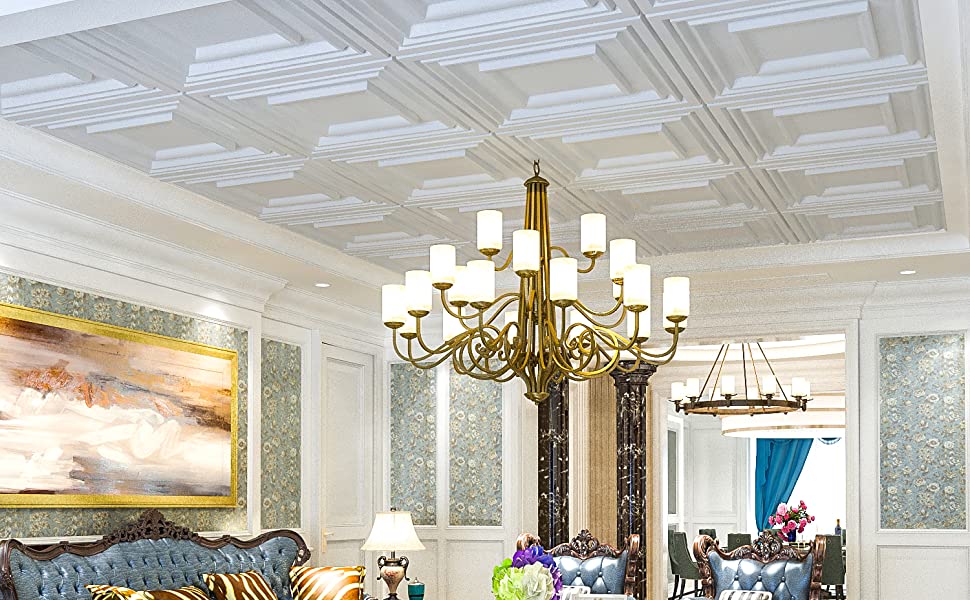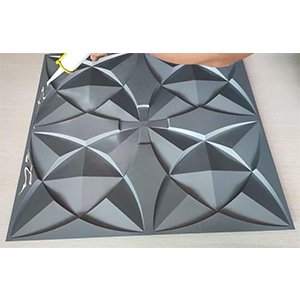 It's made in the size of 24"x24" to meet the standard 15/16" T bar grid system for easy drop in installation.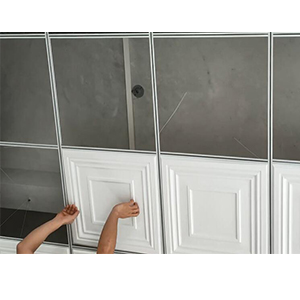 It can also be glued up on any flat substrates if it involves too much to assemble the grid system.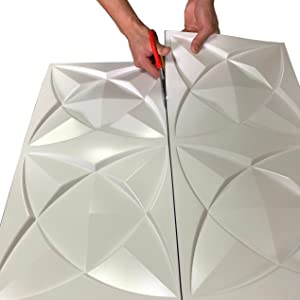 It can be cut with a large pair of scissors or utility knife, no power tools needed, no dust or any hazardous stuffs occur.
Product Features

Color Options
PC001 -MATT WHITE, PC003-MATT BLACK, PC013-SILVER
Art3d ceiling tiles/panels are fabricated from the classic, stylish and elegant designs. It's made of premium PVC, which is thin, lightweight, paintable, humidity and corrosion resistant, extremely easy to work with. It can be cut with a snip, scissors, or utility knife, won't create any dust. It won't absorb moisture and stain, won't crack when moving of it. It's designed to install both for dropping in a standard 15/16'' T bar grid system and Gluing up on any flat substrates. Since it's pretty light, you can process the installation just by yourself.
Customer Review
Contents: The product was purchased online and arrived on time as promised. The tech answered all my questions and was helpful in many ways. The tiles were of good quality and the price was fair , very satisfied.

@Jul 14, 2022 United States
Contents: Product arrived in great shape , no way any damage in shipping could happen with the care they took in shipping . Not using it for the ceiling , although I did pop a few up in my basement drop ceiling to see how they would look if I did, and was pleased but would be way too expensive of a project for that. So I am using as faux wainscoting in my dining room, just gotta paint the lower section and will use doubled sides tape to install these very light weight panels that look like wood ! So fun to have found them and with the price of real wood right now, this is a deal to complete .

Lakergirl @Mar 04, 2022 United States
Contents: Nice and easy

michel st-denis @Jan 30, 2022 United States
Contents: These tiles do look great when installed. They are a bit flimsy by design, so if you plan on installing lights, or in my case, ceiling speakers, you need to take most all the weight off the tile. I did this by cutting/installing 1/4" MDF sections to hold the weight. Then you can overlay the tile. One thing I did not anticipate is that border sections (around the perimeter of ceiling) do not look good by simply cutting the tiles to fit. This is probably the case for any decorative tile. I gave the product a 4 because they did not include nearly enough blank tiles for the perimeter. I have no idea how to get more from the company but was able to order similar ones from another company.

Vezalay @Jan 17, 2022 United States
Contents: Pretty easy install especially if you are dealing with symmetrical areas. Easy install with construction adhesive. I would suggest using a water based adhesive that is easy to clean since there will be some adhesive that squeezes between the tiles. The tiles are pretty light but also sturdy enough to Dremel any rough edges left when using a hole saw.

Mojo @Oct 17, 2021 United States
Contents: The product was purchased online and arrived on time as promised. The tech answered all my questions and was helpful in many ways. The tiles were of good quality and the price was fair , very satisfied.

@Sep 13, 2021 United States
Contents: Not ideal on existing drop ceiling insulation where they need to be cut for edges. We "solved" the issue by flipping them upside down. Check out the photos. I would have chosen a different design if I thought this through. I do like them a lot! They look great. They are more of a silver color not grey.

BriannaS @Jul 28, 2021 United States
How Will My Order Ship?
We will ship your order using the fastest, safest, and most reliable method possible. Therefore, we have established strong relationships with some of the best delivery companies nationwide. Every product on our site has been carefully selected to ship by a particular shipping method in order to provide you with an optimal delivery experience. When your order ships, we will notify you via email. Tracking Number can be found on the custom interface, We encourage you to track your package online or on the phone with the carrier. Most companies can provide an estimated delivery date. Be sure to contact us if anything seems unusual with the progress of the shipment. Please note we cannot ship to P.O. Boxes or Military APOs.
What is the return policy?
Returning merchandise is always inconvenient, expensive and no fun for any party involved. That is why we are trying to avoid returns by making sure our customers understand what they are ordering right from the beginning.
Please read item descriptions, supporting information and FAQ carefully. We offer unique products and try to provide our customers with most detailed description possible upfront. Please take advantage of our product sample programs.
Please visit http://www.art3d.com/return-policy/ for detail.
What is the payment method?
We accept PayPal payment. Supports Visa, Master card, American Express, Discover and more, it is the faster, safer way to pay.
Other than Paypal payment, we also accept TT transfer, West Union Transfer, Alipay and Wechat transfer, please contact us if needed.