Each box contains 12 sheets that can cover an area of 3 m² or 32.29 sq.ft. Supporting environmentally friendly decoration, fashionable ornamental 3d wall paneling manufacturer direct, cheap price and good quality.
Product Parameter
| | |
| --- | --- |
| Design code: | A21030 |
| Brand: | Art3D |
| Size: | 500 mm * 500 mm (19.68" * 19.68") |
| Embossed Thickness: | Around 25 mm (0.984") |
| Principal Ingredients: | Natural plant fiber |
| Nominal Finish: | Matte white |
| Weight: | 6 Kgs per box (±0.5 kgs) |
| Standard Packaging: | Carton box package, 12 sheets in one package |
| Pattern Type: | 4 sides repeatable |
| Customization: | Available for order over 200 square meter |
| Notes: | Patterns, photos and drawings are for illustration purposes only. Final production may vary. |
Product Features
100% biodegradable, easy installation, acid and alkali resistance, easy DIY.
Color Options
Currently natural plant fiber 3d wall panels has only matte white color, if you need more color options, please refer to our similar products 3d PVC panels or exterior 3d panels.
Ornamental 3D Wall Paneling Gallery & Projects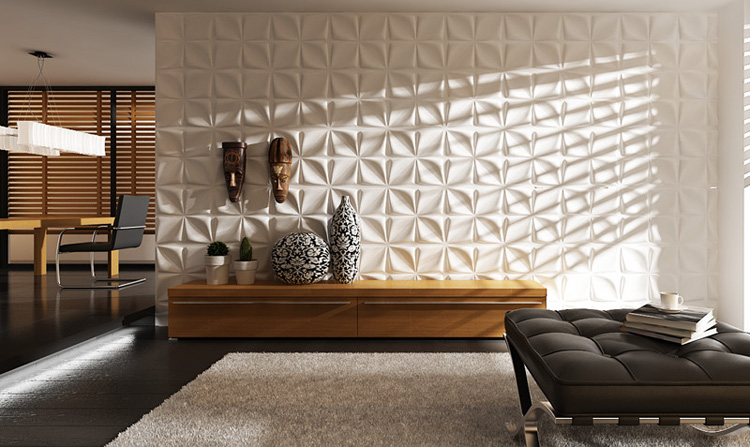 Installation Guide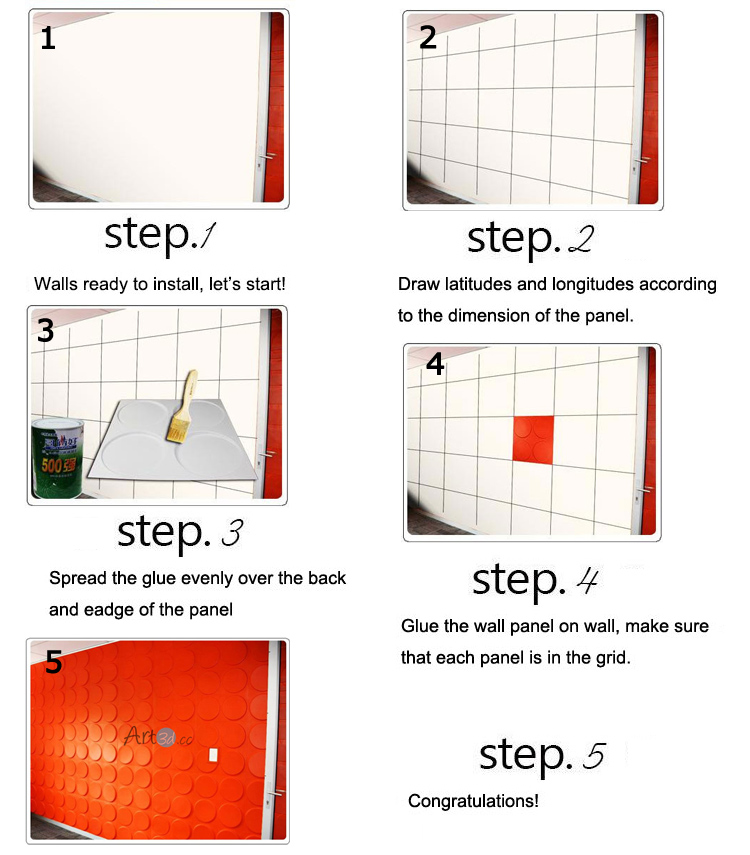 Ornamental 3D Wall Paneling Application
Ornamental 3d wall paneling is an ideal wall covering products for interior wall decoration. they are great solutions to ugly, stubborn problematic wall, ceiling or any surface that needs covering. Such as living room, bedroom, kitchen room, TV background, feature walls and ceiling in house decoration; company logo wall, lobby backdrop, reception desk front in office, restaurant, cafes or night clubs decoration. Other than creating a stunning visual effect for wall, can also be crafted into furniture designs, such as cabinet doors, bed headboard, bedroom wardrobe and kitchen cabinet. Ornamental 3d wall paneling can also be crafted into furniture designs, such as cabinet doors, bed headboard, bedroom wardrobe and kitchen cabinet. Important notice: Natural plant fiber material can not be applied in outdoor environment, we recommend using exterior 3d wall tiles (ACM resin material) for outdoor, they are 10 years quality guarantee.
Customer Review
Contents: These lightweight tiles are beautiful! We chose to use them on the ceiling of our mud room. Install was a unique experience. We did not find any previous reviews on using them on the ceiling, but forged ahead regardless. The seams did not line up perfectly and this was triggering for my perfectionist self. My husband, the installer, did not personally see this as an issue, but he knows me well enough to know I would. We used super glue in each corner and the center as well as gorilla glue along all of the sides to attach them to the ceiling. The super glue dries faster so it got them to stick while the gorilla glue dried. We found ourselves needing to use tacks as an additional method to keep them hung until the glue dried. My husband then went around the seams with white caulking to hide the imperfections. We cut holes for recessed lighting. This was a mild challenge due to the edges peeling at times, but the caulking was able to hide that too. We then chose to paint over everything with white paint to give a uniform look and feel. All in all, a manageable, slightly obnoxiously time consuming task. My husband and I agree we would do it all again even knowing what we know now, because the final outcome feels beautiful and unique.

brittney @Jul 05, 2022 United States
Contents: I liked the end result— but I'm not sure I can justify the price tag for what I got. For MUCH less than what I spent, I could have used trim or mounding to create a "board and batten" kind of accent wall and would have finished 4x as fast— not to mention how much easier removal would have been in the event I move. This project took FOREVER to finish and costs much more! You've got to find a decent construction glue and get many bottles of acrylic caulk to finish all the seams. AND you need to buy paint because the panels come in an awful yellowish color. You need a drop cloth, a caulk gun, rags to clean up the crazy mess this turns into, etc. The panels aren't made of plastic. It feels like paper plate material and it needs heavy duty construction glue to remain on the walls until the glue dries. It was such a pain to glue them as corners would stick up and using tape to hold them down only made rips on the panel (the way cardboard looks when you rip tape off of it) If this is exactly what you're looking for then go for it. Personally I wish I'd read a comment like mine to let me know this was going to be wayyyy more work and money than I intended (~$260) for a small ~8ft by ~8ft wall. All that said— the wall looks pretty good. Tip: place the glue on the panel AND the wall for better adhesion.

Ana @Jan 01, 2020 United States
Contents: Added these to a wall in our bar and its the first thing people ask about when they come in! Im a contractor by trade and would definitely recommend using a table saw to make your cuts...im sure a rotary tool like a dremel or grinder with a cutting wheel would work as well....not sure about a razor knife. They're pretty easy to work with. I had used an 1/8" trowel to spread a glue on while installing them. A couple corners wanted to pop away from the wall while installing and I just stuck a thumb tack in it until it set. When everything was set i used a little caulk and my finger to fill any little seams that you could see then painted!!

dustin @Jan 16, 2019 United States
Contents: When I saw this item i just feel in love with it and i love the outcome of it U are able to clean spots off and it looks just like new

Lentriea Walker @Jan 02, 2019 United States
How Will My Order Ship?
We will ship your order using the fastest, safest, and most reliable method possible. Therefore, we have established strong relationships with some of the best delivery companies nationwide. Every product on our site has been carefully selected to ship by a particular shipping method in order to provide you with an optimal delivery experience. When your order ships, we will notify you via email. Tracking Number can be found on the custom interface, We encourage you to track your package online or on the phone with the carrier. Most companies can provide an estimated delivery date. Be sure to contact us if anything seems unusual with the progress of the shipment. Please note we cannot ship to P.O. Boxes or Military APOs.
What is the return policy?
Returning merchandise is always inconvenient, expensive and no fun for any party involved. That is why we are trying to avoid returns by making sure our customers understand what they are ordering right from the beginning.
Please read item descriptions, supporting information and FAQ carefully. We offer unique products and try to provide our customers with most detailed description possible upfront. Please take advantage of our product sample programs.
Please visit http://www.art3d.com/return-policy/ for detail.
What is the payment method?
We accept PayPal payment. Supports Visa, Master card, American Express, Discover and more, it is the faster, safer way to pay.
Other than Paypal payment, we also accept TT transfer, West Union Transfer, Alipay and Wechat transfer, please contact us if needed.