Each box of contains 12 panels that can cover an area of 3 m² or 32.29 sq.ft. Fashionable glue on 3d surface PVC cladding manufacturer direct, cheap price and good quality, can be used in exterior wall covering and interior wall design.
Product Parameter
| | |
| --- | --- |
| Design code: | A10002 |
| Brand: | Art3D |
| Size: | 500 mm * 500 mm (19.68" * 19.68") |
| Embossed Thickness : | Around 25 mm (0.984") |
| Principal Ingredients: | PVC |
| Normal Finish: | Matt white |
| Weight: | 5 Kgs per box (±0.5 kgs) |
| Standard Packaging: | Carton box package, 9 sheets in one package |
| Pattern Type: | 4 sides repeatable |
| Customization: | Available for order over 200 square meter |
| Notes: | Patterns, photos and drawings are for illustration purposes only. Final production may vary. |
Product Features

3D Surface PVC Cladding Gallery & Projects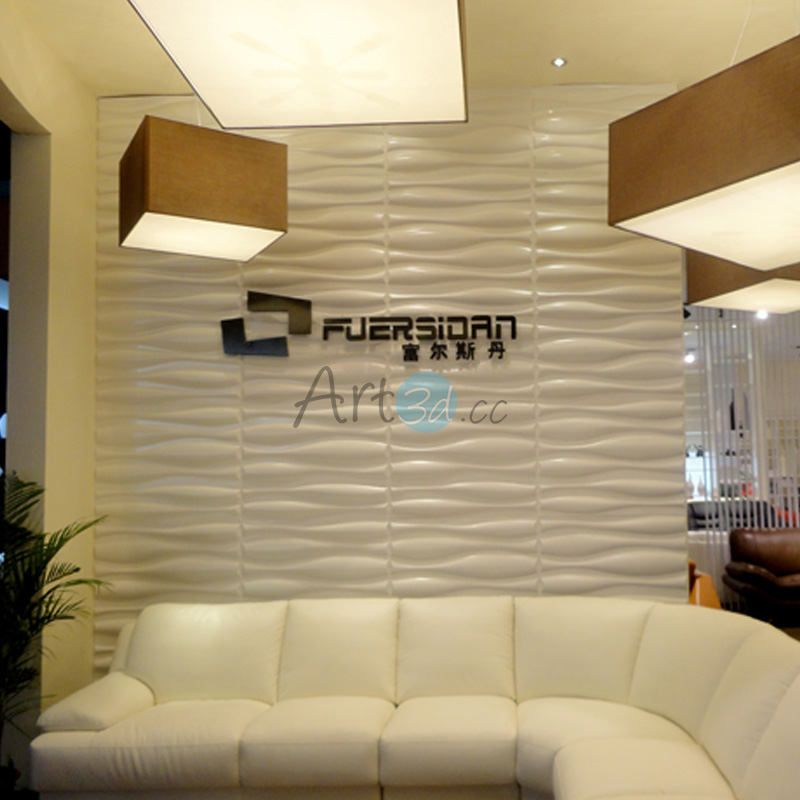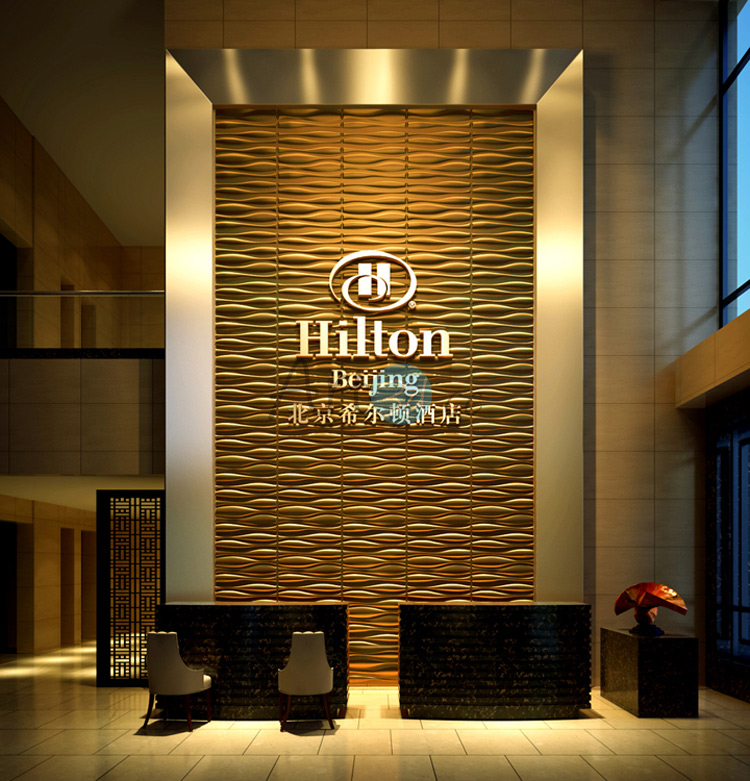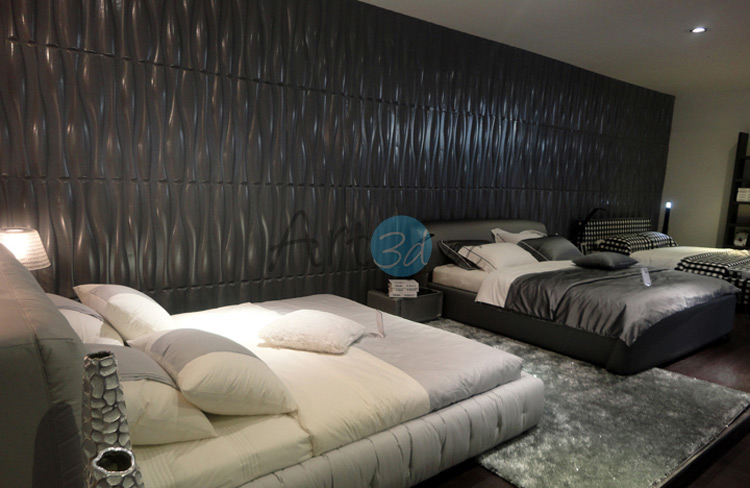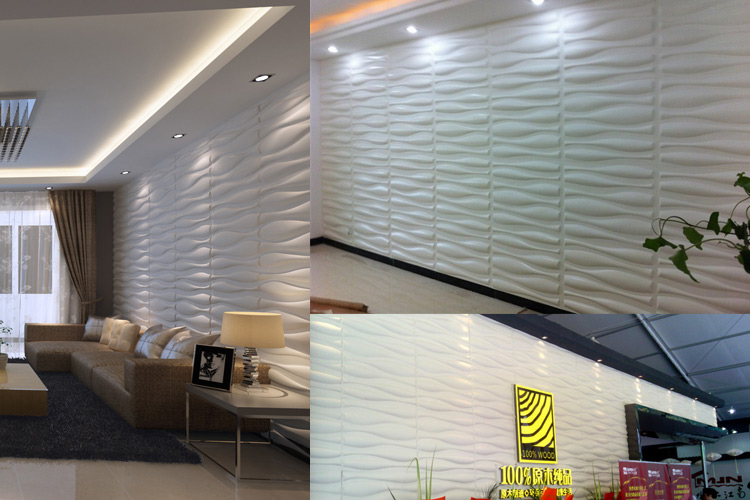 Installation Guide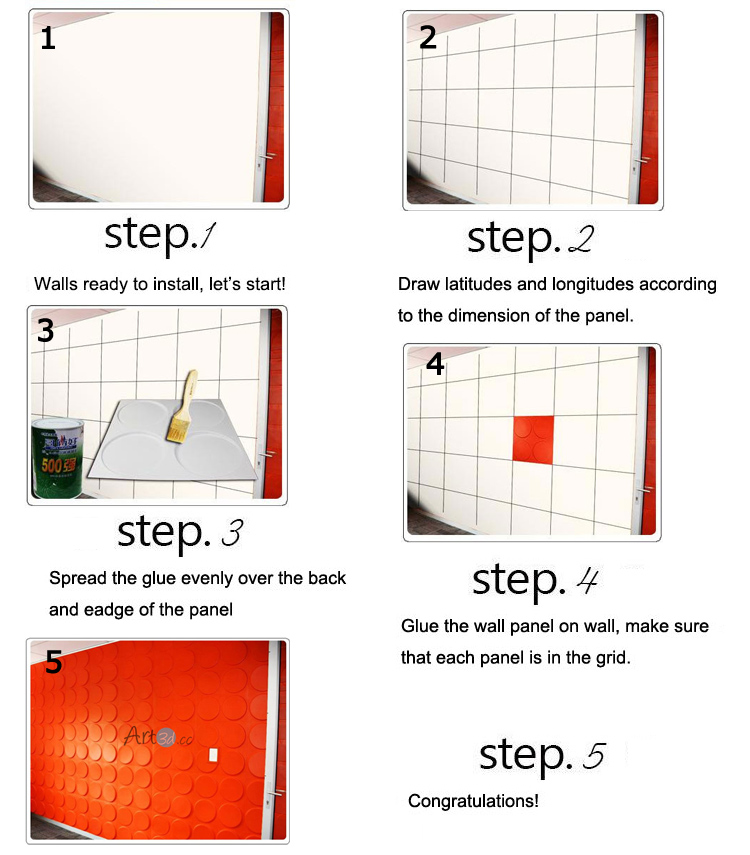 3D Surface PVC Cladding Application
3D surface pvc cladding are ideal wall covering products that can be used in interior ONLY. they are great solutions to ugly, stubborn problematic wall, ceiling or any surface that needs covering. Such as living room, bedroom, kitchen room, TV background, feature walls and ceiling in house decoration; company logo wall,lobby backdrop, reception desk front in office, restaurant, cafes or night clubs decoration. Other than creating a stunning visual effect for wall, 3D surface pvc cladding can also be crafted into furniture designs, such as cabinet doors, bed headboard, bedroom wardrobe and kitchen cabinet. Important notice: even thought PVC material can be used in exterior environment, we strongly recommend using exterior 3d wall tiles (ACM resin material) for outdoor, for ACM resin is much more durable than PVC.
Customer Review
Contents: This is a great product and looks really nice on my wall. It is durable and easy to install. You make sure it is the right size for the place it is being put and just squeeze the glue product on a piece at a time. I then added primer 1st to make sure the paint stays on a long time and spray painted it. Also, great customer service, fast to answer back. I love the wall.

Cecelia @Jul 31, 2020 United States
Contents: These are pretty cool, really change the whole look of a room with these tiles. One set of 12 isn't enough to do a whole wall, so expensive room decor' well worth the investment. Painting was easy, only issue look plastic even painted, I added texture to the paint I used to help look more like plaster wall tile. Cool tiles.

Mico @Dec 11, 2017 United States
Contents: These are extremely durable and I'm very satisfied with them. Word of advice the best thing to stick them on your wall is liquid nail tub surround adhesive. Also using thumbtacks help to hold them in place till the glue set.

@Jan 30, 2017 United States
Contents: glued with gorilla fast set glue. I had a big wall - took two of us to make decent time. Cuts best with a dremmel tool. takes two coats of paint if you are going dark. pretty sturdy. This photo is the room unfinished but you get the idea. Biggest hints are using the dremmel,planning your layout to minimize cuts, use a good paint for great coverage (sherwin williams cashmere worked great).

Jan M. @Jan 01, 2017 United States
Contents: Great for my bathroom wall over the vanities. I had been searching for this product through various online sites and was very surprised to find it on this store. The product was very easy to work with and was exactly as described.

mr.raz.cl @Aug 06, 2015 United States
Contents: Very easy to assembly following the instruction, excellent quality of material, good result, stylish and light weigh.

trichard1916 @Jul 24, 2015 United States
Contents: Great product at a lower price point than similar website with the same features, everything was on schedule, the panels were better than expected.

Robert @Jul 23, 2015 United States
Contents: Do you have dealer in Italy or French ? I want to buy small quantity for my living room.

Michael @Jul 09, 2015 Italy

Reply:Dear, art3dwallpanels.com is a factory direct website, we don't have distributor or agent in any country or region around the world.
How Will My Order Ship?
We will ship your order using the fastest, safest, and most reliable method possible. Therefore, we have established strong relationships with some of the best delivery companies nationwide. Every product on our site has been carefully selected to ship by a particular shipping method in order to provide you with an optimal delivery experience. When your order ships, we will notify you via email. Tracking Number can be found on the custom interface, We encourage you to track your package online or on the phone with the carrier. Most companies can provide an estimated delivery date. Be sure to contact us if anything seems unusual with the progress of the shipment. Please note we cannot ship to P.O. Boxes or Military APOs.
What is the return policy?
Returning merchandise is always inconvenient, expensive and no fun for any party involved. That is why we are trying to avoid returns by making sure our customers understand what they are ordering right from the beginning.
Please read item descriptions, supporting information and FAQ carefully. We offer unique products and try to provide our customers with most detailed description possible upfront. Please take advantage of our product sample programs.
Please visit http://www.art3d.com/return-policy/ for detail.
What is the payment method?
We accept PayPal payment. Supports Visa, Master card, American Express, Discover and more, it is the faster, safer way to pay.
Other than Paypal payment, we also accept TT transfer, West Union Transfer, Alipay and Wechat transfer, please contact us if needed.