Each box contains 12 sheets that can cover an area of 3 m² or 32.29 sq.ft. Supporting environmentally friendly decoration, fashionable 3d illuminative wall covering manufacturer direct, cheap price and good quality.
Product Parameter
| | |
| --- | --- |
| Design code: | A21034 |
| Brand: | Art3D |
| Size: | 500 mm * 500 mm (19.68" * 19.68") |
| Embossed Thickness: | Around 25 mm (0.984") |
| Principal Ingredients: | Natural plant fiber |
| Nominal Finish: | Matte white |
| Weight: | 6 Kgs per box (±0.5 kgs) |
| Standard Packaging: | Carton box package, 12 sheets in one package |
| Pattern Type: | 4 sides repeatable |
| Customization: | Available for order over 200 square meter |
| Notes: | Patterns, photos and drawings are for illustration purposes only. Final production may vary. |
Product Features
100% biodegradable, easy installation, acid and alkali resistance, easy DIY.
Color Options
Currently natural plant fiber 3D illuminative wall covering has only matte white color, if you need more color options, please refer to our similar products 3d PVC panels or exterior 3d panels.
3D Illuminative Wall Covering Gallery & Projects
Installation Guide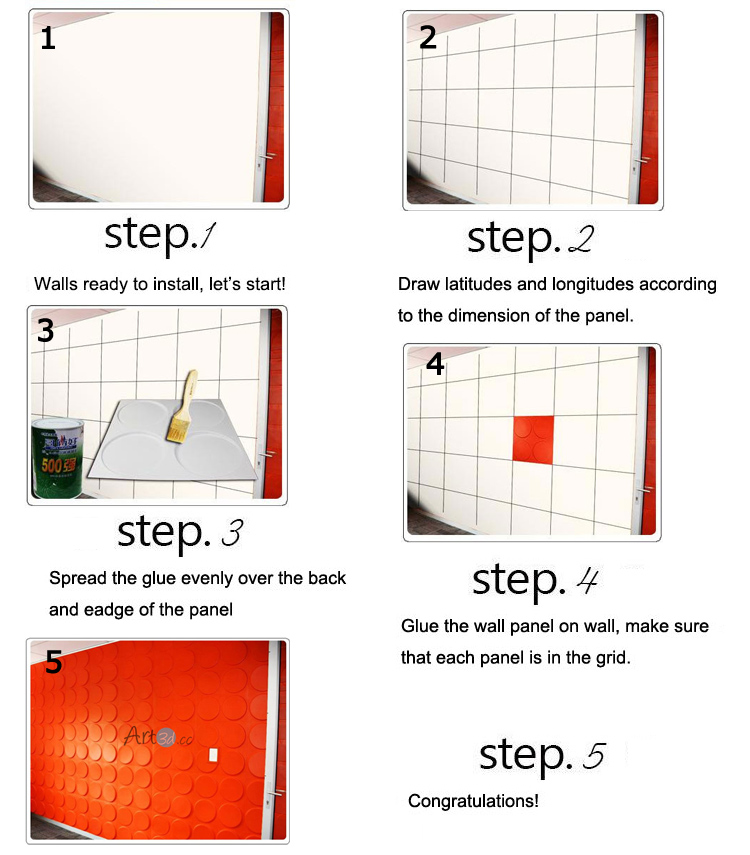 3D Illuminative Wall Covering Application
3D illuminative wall covering is an ideal wall covering products for interior wall decoration. they are great solutions to ugly, stubborn problematic wall, ceiling or any surface that needs covering. Such as living room, bedroom, kitchen room, TV background, feature walls and ceiling in house decoration; company logo wall, lobby backdrop, reception desk front in office, restaurant, cafes or night clubs decoration. Other than creating a stunning visual effect for wall, can also be crafted into furniture designs, such as cabinet doors, bed headboard, bedroom wardrobe and kitchen cabinet. 3D illuminative wall covering can also be crafted into furniture designs, such as cabinet doors, bed headboard, bedroom wardrobe and kitchen cabinet. Important notice: Natural plant fiber material can not be applied in outdoor environment, we recommend using exterior 3d wall tiles (ACM resin material) for outdoor, they are 10 years quality guarantee.
Customer Review
Contents: The wall covering tiles I ordered from Art 3d have added an elegant touch to my plain white walls. I am looking to order again real soon. I love the new transformation!!!

Anonymous @Oct 18, 2020 United States
Contents: Absolutely stunning! We used the tiles to cover some wood paneling on my mid-century modern homes living room wall. The PVC is pretty lightweight, so we used a combination of tile glue and super glue to cover the walls. At 12 per box it was a pretty expensive learning curve to learn how to cut, but we found an ocillating saw worked best. I hoped it wouldn't look like a night club or restaurant when we finished. Bottom line... It looks phenomenal. I highly recommend this product And the customer service is out of this world. Zero Hassle! Answered emails and questions super quick. I ran short on product and ordered the wrong replacement (which was more expensive). They caught it and sent the right product and have me a refund. One box was short 1. They sent another right away. Best customer service I've had in a long while.

Marcus from Philly, PA @May 23, 2018 United States
Contents: It's up on the wall. Super easy, and super cute. To give you an idea of just how easy. My 13 year old took over the project since it was for his room. Only difficult part is making sure you you use a sharp tool when cutting so it doesn't fray. I recommend a razor blade type and score it until it slices nicely. Upgrading it to a 5 as it's just that nifty. Haven't installed yet but it is made a lot stronger than I thought when I read "plant fiber" It's not as dimensional as the picture shows but is perfect for the space we need it in. Will try to update after installation

tntricia @Jan 29, 2018 United States
Contents: We ordered 3 packages and they came quite quickly. The panels where easy to install and we chose to paint it. The result was fantastic and we love it. Good quality. We get a lot of nice comments when people see our room with this wall. Have bought other panels (PVC) for the bathroom from Art3d again, but still not put up, very excited for those as well.

Nita @Dec 29, 2017 Norway
Contents: Love the product. Seller was very quick to answer questions before purchase.

@Mar 20, 2017 United States
Contents: A bit deceiving as the product was not of the quality that i expected, however after we primed and painted and put on the wall, i love the look! if you want a cool look at a very reasonable price then go for it.

Michele @Jan 14, 2017 United States
Contents: Works great. So nice.

@Nov 26, 2016 United States
Contents: Fast shipping! Excellent!

@Nov 13, 2016 United States
Contents: I love this product! Looks exactly like the picture.

@Nov 13, 2016 United States
How Will My Order Ship?
We will ship your order using the fastest, safest, and most reliable method possible. Therefore, we have established strong relationships with some of the best delivery companies nationwide. Every product on our site has been carefully selected to ship by a particular shipping method in order to provide you with an optimal delivery experience. When your order ships, we will notify you via email. Tracking Number can be found on the custom interface, We encourage you to track your package online or on the phone with the carrier. Most companies can provide an estimated delivery date. Be sure to contact us if anything seems unusual with the progress of the shipment. Please note we cannot ship to P.O. Boxes or Military APOs.
What is the return policy?
Returning merchandise is always inconvenient, expensive and no fun for any party involved. That is why we are trying to avoid returns by making sure our customers understand what they are ordering right from the beginning.
Please read item descriptions, supporting information and FAQ carefully. We offer unique products and try to provide our customers with most detailed description possible upfront. Please take advantage of our product sample programs.
Please visit http://www.art3d.com/return-policy/ for detail.
What is the payment method?
We accept PayPal payment. Supports Visa, Master card, American Express, Discover and more, it is the faster, safer way to pay.
Other than Paypal payment, we also accept TT transfer, West Union Transfer, Alipay and Wechat transfer, please contact us if needed.