9.5 Sq.Ft peel and stick backsplash tiles. Color subway adhesive mosaic tile backsplash for bathroom & kitchen wall decoration. easy cut and trim, no grout, no special tools and no mess.
Product Parameter
| | |
| --- | --- |
| Design Code: | A17014 |
| Brand: | Art3D |
| Size of Tile: | 300* 300mm (11.81" X 11.81") |
| Thickness: | Around 2 mm (0.08") |
| Principal Ingredients: | Epoxy resin + PET back |
| Nominal Finish: | Epoxy resin + PET back |
| Gross Weight: | 1.5 Kgs per box (± 0.3 kgs) |
| Standard Packaging: | Carton box package, 10 tiles in one package |
| Customization: | Available for order over 200 square meter |
| Notes: | Patterns, photos and drawings are for illustration purposes only. Final production may vary. |
Product Features
Easy DIY peel and stick tile concept of adhesive mosaic tile backsplash is made of an adhesive substrate topped with a gel component called epoxy resin, the embossed 3d epoxy resin offers stunning visual impact. the tiles are thin and light, they can be installed in minutes over a clean and sleek surface without any mess or specialized tools, and never crack with time. Adhesive mosaic tile backsplash is also an economic wall covering material, if you are getting tiled of the same design, just peel them off and change a new style. Art3dTM mosaic sticker offers veracious collections to meet you different taste. Adhesive mosaic tile backsplash is lightweight, easy to handle, cut and maintain, they will remain on your walls for as long as you wish them to be. The tiles can also be easily installed directly over existing panels or smooth surface. Especially designed for kitchen backsplashes and bathroom backsplashes, the tiles are resistant to the heat of stovetops and the humidity of bathrooms (do not use in shower).
Adhesive mosaic tile backsplash
Do it yourself, easy cut and trim, no grout, no glue, no special tools and no mess
Lightweight and thin, easily installed directly over existing panels or smooth surface
Extremely suit for kitchen backsplashes and bathroom backsplashes
Guaranteed to stick to your walls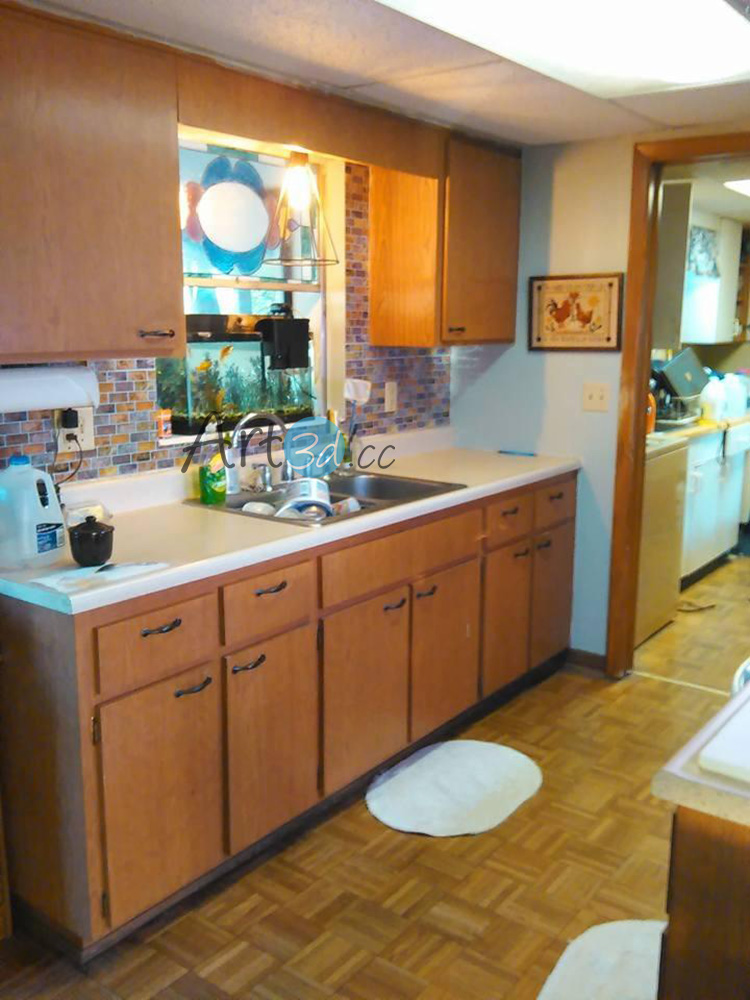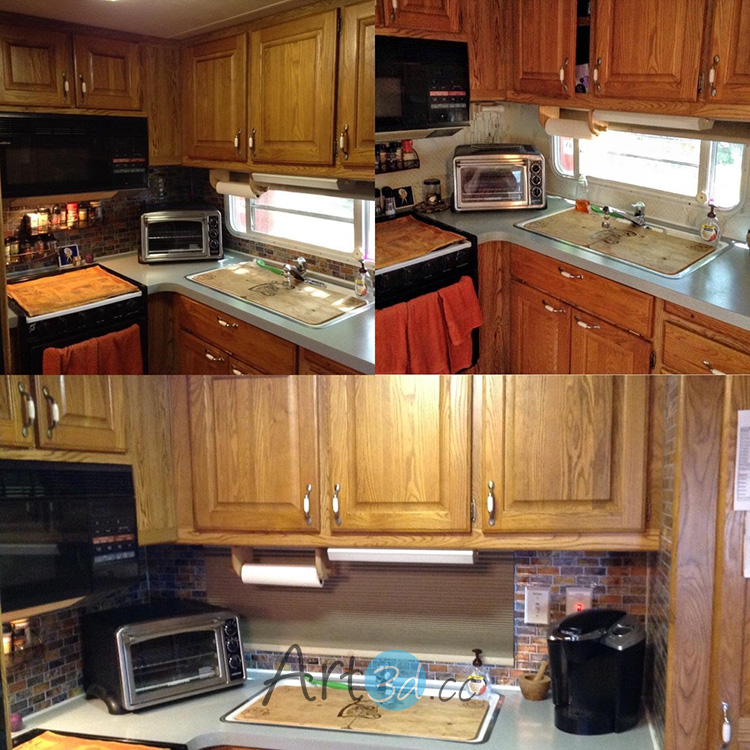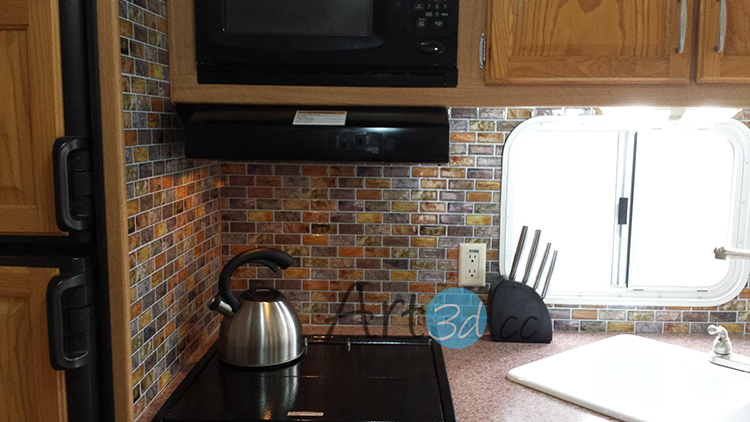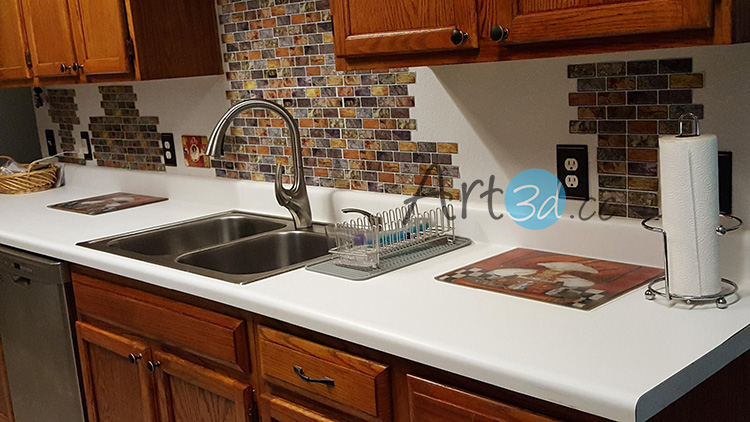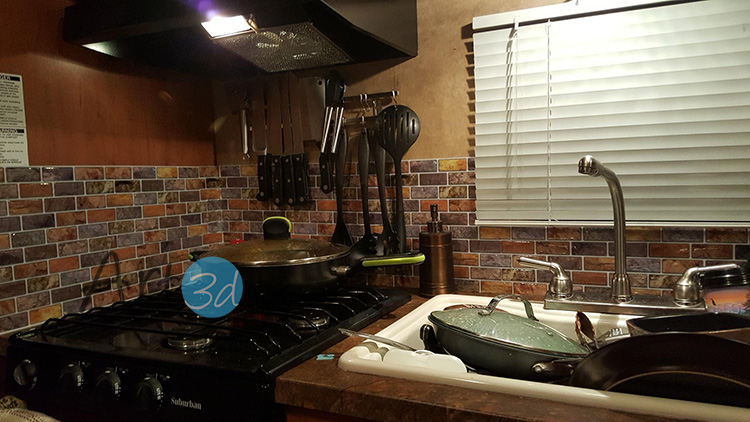 Art3dTM backsplash sticker is a adhesive mosaic tile backsplash , it is a simplified and economics wall material and its relative easy to finish your wall covering in anytime almost instantly. Art3dTM backsplash sticker has a protective layer of plastic on the top, which help to prevent dust when installation.
Installation Guide
Back splash is very easy to install, for detailed installation guide and video guide, please visit backsplash sticker installation guide
Adhesive Mosaic Tile Backsplash Application
Adhesive mosaic tile backsplash is ideal wall covering product that can be used in interior decoration, it can be used in wet environment such as bathroom and kitchen room, please note that it can't use in shower. Adhesive mosaic tile backsplash is especially designed for kitchen backsplashes and bathroom backsplashes, it can be stick on wall or remove easily. Other than that, adhesive mosaic tile backsplash can also use in glass door or screen decoration, or stick on cabinet door. Note: please note that adhesive mosaic tile backsplash can't use in shower.
Customer Review
Contents: made a huge difference in an all white kitchen. Ordered a second time to do the splash around my sink.

Michael Koval @Jun 02, 2016 United States
Contents: Great product and outstanding customer service.

PAUL G LEYDEN @May 21, 2016 United States
Contents: Great product but ended up clashing with my counter top. Customer service was very helpful with my return. Looks like real tiles

@May 21, 2016 United States
Contents: I love these and so does anyone else who sees them

Jill Bois @May 20, 2016 United States
Contents: Though we ended up not using this for our fireplace project, I wanted to leave a review in hopes of helping others with their decision process (and also give a quick thanks to all who answered my posted question about this product.... I'd like to pay it forward, so to speak.) Here's why we ended up not using this, despite the fact both my husband and I very much liked the way the single tile we bought looked (this is a great way to go, purchase a single tile, if you aren't sure) ... We wanted to use this over our fireplace brick. The colors on the tile were perfect for our decor and tastes, but we felt the "bricks" looked too small for the area it was going to be applied. We were willing to overlook that, but we also were faced with the challenge of the tiles having "interlocking" (well, overlaying) pieces AND also having to cut them to size for the area. Ultimately, we decided to go with 12 x 24 peel and stick floor tiles without a pattern, so it would be easier to cut to size and piece things together. The following is what I think others may want to know about these tiles. These are neither 'pros' nor 'cons', just information.... * The tiles are 12 x 12 and are flat / even on one edge, and on the other edge, cut to overlay on the flat side (see photo). * The "bricks" are slightly padded, soft, so the surface is not flat, giving the bricks a slightly raised look (because they are). * The "stones" look more natural when located where light is not shining directly on them. * In direct light, or even bright indirect light, they are shiny and lose their realistic look, though they still look nice. * Photos do not do justice to the vibrant, rich colors as they appear in person. * They ship with a thin, clear, plastic protective film on the front surface that peels away very easily. * The back side has a thicker white, vinyl-feeling covering to peel off, that seems to be thicker than the tile itself. * The stickiness of the adhesive is much less than that of floor tile (based on touching my thumb to both, to compare.) I cannot comment on the effectiveness of the back adhesive when applied to a surface, but I can tell you, even with the peel and stick floor tile we went with, I had to use a separate glue and reapply it three times. Not surprising given the weight of the floor tile and the brick surface we applied it too (even though the brick we have is very smooth, it's still porous.) And one more note regarding the shininess of the tile, I have high-gloss tiles in my kitchen, so if "gloss" is what you are looking for, this very well could be a good match for your needs. If you are looking for "flat", this likely isn't a style of tile you'd be happy with, despite its other good qualities. So, bottom line, we really liked the look and feel of this tile for the area where we wanted to use it, but because of the above-mentioned reasons, we used something else. I still think this is a good product for anyone that has a longer stretch of area that doesn't require a lot of a cutting that would interfere with the interlocking aspect or a lot of cutting of individual tiles to make fit areas smaller than 12 inches.

M. Downey @May 10, 2016 United States
Contents: The product looks great, but it doesn't stick well. After completing the job in my RV, it looked fantastic, but the next day most of it was falling off. I cleaned the wall as instructed prior to installation, but it was a rainy day, so maybe the humidity played a role. I'm not sure, but I am very disappointed. I will have to get some kind if adhesive to reapply it.

julia kara @Apr 30, 2016 United States
Contents: It's amazing that something as simple as tile can transform an entire room. Our kitchen was pretty top shelf before we added these as a color backsplash. It turned an attractive room into something stunning. I highly recommend this product.

Benjamin @Apr 26, 2016 United States
Contents: loved it!

@Apr 25, 2016 United States
Contents: Easy to install. A real eye catcher. Great product.

Jane M. @Apr 19, 2016 United States
Contents: These are absolutely amazing! I purchased these after seeing something similar at a home improvement store where they were sold by the sheet 12x12) for $7.98 per sheet. The guys who are working on my kitchen are very impressed with them, and I have decided to purchase enough to go over the ceramic tile backsplash. The ones I bought will be placed on the wall behind the stove. Love the colors which will add a huge accent to the kitchen.

psm1626 @Apr 01, 2016 United States
How Will My Order Ship?
We will ship your order using the fastest, safest, and most reliable method possible. Therefore, we have established strong relationships with some of the best delivery companies nationwide. Every product on our site has been carefully selected to ship by a particular shipping method in order to provide you with an optimal delivery experience. When your order ships, we will notify you via email. Tracking Number can be found on the custom interface, We encourage you to track your package online or on the phone with the carrier. Most companies can provide an estimated delivery date. Be sure to contact us if anything seems unusual with the progress of the shipment. Please note we cannot ship to P.O. Boxes or Military APOs.
What is the return policy?
Returning merchandise is always inconvenient, expensive and no fun for any party involved. That is why we are trying to avoid returns by making sure our customers understand what they are ordering right from the beginning.
Please read item descriptions, supporting information and FAQ carefully. We offer unique products and try to provide our customers with most detailed description possible upfront. Please take advantage of our product sample programs.
Please visit http://www.art3d.com/return-policy/ for detail.
What is the payment method?
We accept PayPal payment. Supports Visa, Master card, American Express, Discover and more, it is the faster, safer way to pay.
Other than Paypal payment, we also accept TT transfer, West Union Transfer, Alipay and Wechat transfer, please contact us if needed.