Each box contains 12 panels that can cover an area of 3 m² or 32.29 sq.ft. Fashionable glue on 3d wavy panel manufacturer direct, cheap price and good quality, can be used in exterior wall covering and interior wall design.
Product Parameter
| | |
| --- | --- |
| Design code: | A10040 |
| Brand: | Art3D |
| Size: | 500 mm * 500 mm (19.68" * 19.68") |
| Embossed Thickness : | Around 25 mm (0.984") |
| Principal Ingredients: | PVC |
| Normal Finish: | Matt white |
| Weight: | 5 Kgs per box (±0.5 kgs) |
| Standard Packaging: | Carton box package, 12 sheets in one package |
| Pattern Type: | 4 sides repeatable |
| Customization: | Available for order over 200 square meter |
| Notes: | Patterns, photos and drawings are for illustration purposes only. Final production may vary. |
Product Features

3D Wavy Panels Gallery & Projects
Installation Guide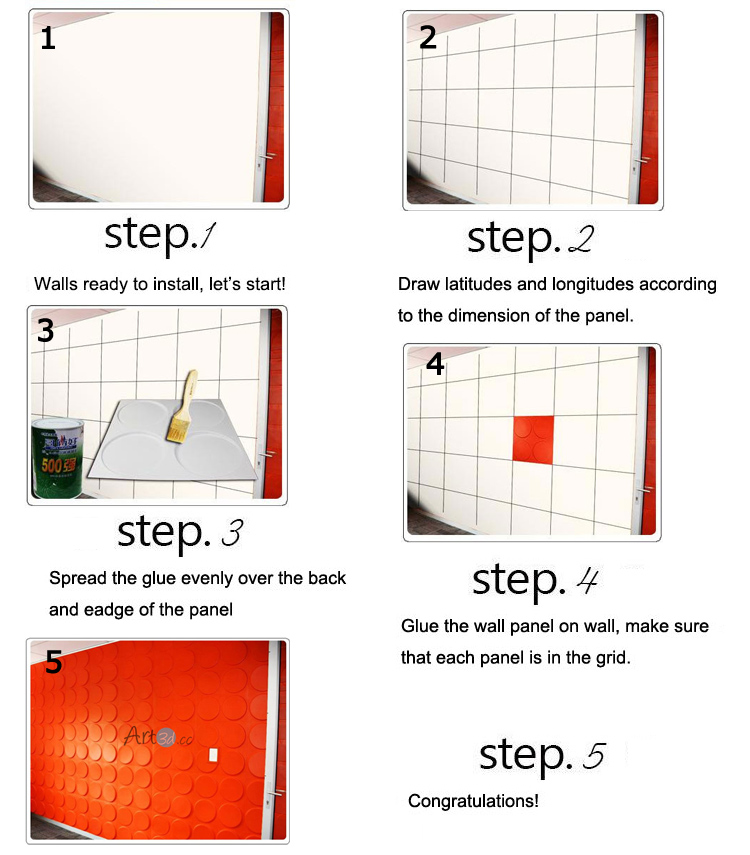 3D Wavy Panels Application
3d wavy panels are ideal wall covering products that can be used in interior and exterior decoration. they are great solutions to ugly, stubborn problematic wall, ceiling or any surface that needs covering. Such as living room, bedroom, kitchen room, TV background, feature walls and ceiling in house decoration; company logo wall,lobby backdrop, reception desk front in office, restaurant, cafes or night clubs decoration. Other than creating a stunning visual effect for wall, 3d wavy panels can also be crafted into furniture designs, such as cabinet doors, bed headboard, bedroom wardrobe and kitchen cabinet. Important notice: even thought PVC material can be used in exterior environment, we strongly recommend using exterior 3d wall tiles (ACM resin material) for outdoor, for ACM resin is much more durable than PVC.
Customer Review
Contents: Overall the product looks good, but cutting the tiles and adhering them to the wall is difficult. We wasted a lot of them.

Maggie @Oct 18, 2021 United States
Contents: I love my wall. We took 6 hours installing this panels, they where a little hard to cut even with new blades, but was worth the time. The way it looks in love. I decided not to go with the waves and put them like that it's easier and the way it looks it's different and very modern.

Hanny Aponte @Apr 11, 2021 United States
Contents: Résultat super, mais pas facile à installer... Utilisez une colle qui sèche rapidement car les tuiles finissent par tomber si la colle prends trop de temps. Dans vos calculs de quantité à acheter, n'oubliez pas de prendre en considération le fait que les restes de tuiles coupées à la verticale ne sont pas réutilisables, à moins de faire une rangée de demie tuiles en haut et une autre en bas (les motifs ne fittent plus ensemble si non). Je suis très satisfait du résultat.

Allan @Dec 09, 2020 Canada
Contents: These panels are cheaper than a lot of other similar options out there. I order a box for a small wall in the entrance I wanted to make a statement on as you enter the house. The panels are well made and are very durable. But they just didn't "do it" for me. I just found the overall look to be a bit cheap looking. So instead I used hardwood flooring on the accent wall which turned out amazing. If you really want this waving look with seams in between each row go for it, the product is good. If you are on the fence design-wise, try something else.

Jason @Nov 02, 2020 United States
Contents: Needs solid backing and a bit fragile if using nailer but spackling works well to fill in gaps. We used glue and nailer and cut with sheet metal shears, easy. Looks great

Anonymous @Jun 05, 2020 United States
Contents: The most time was taken just figuring out how and where to start. Read reviews here, and decided to use white Gorilla adhesive. Make sure adhesive is applied to the edges so they don't lift. Once we got going, application was quick and easy! Panels were easy to work with. Make sure all panels are applied the same direction. It DOES matter.

Vicki K @Oct 22, 2018 United States
Contents: This 3D wall panels are made with a quality material, resistant, recommended for walls in where the kids play close around. The complain is; instructions are not so clear, I had to search videos or tutorials about what product I need to adhere the panels to a concrete wall, I spent money using 3M spray, joint compound and other type of "glue", liquid nails but any of them provided a good and fast adherence. Finally I found the best product ever to work with this panels... and is the Sherwin williams 1050QD (Quick Dry), better than this product ... nothing. I end the job easily, clean with a professional finish. Highly recommended. Im giving only 4 because the instructions are not clear. But in over all I recommend those panels

Edwin C. @Oct 12, 2018 United States
Contents: Very pleased with the 3D PVC panels. Received them Thursday and installed this weekend. I recently built a TV/fireplace on the main wall of my living room and needed something to go on either side of the build-out and saw these panels on here. The panels I installed on the right I used liquid nail and 100% silicone, it took a bit of work and I was almost disappointed, not with the look, but the amount of effort it took to get these to stick just right. Then the next day I started the left side and I thought..."These are light weight off panels..it shouldn't be this difficult to put these up..I've put up heavy 12x24 wall tiles though out my house with no problems.." Then I remembered I had some white thinset left from tiling the fire place, mixed it up and used a V-notched trowel like I was putting up regular backsplash..and I finished the whole left side in 15mins. :) Pro Tip: Use a good white thinset & mix like peanut butter, small V-Notch Trowel. For reference my wall is 18ft wide x 17ft tall. The fire place is 10ft wide x 9ft tall. I may order more to do the upper half of the wall.

Chris Thomas @Oct 08, 2018 United States
How Will My Order Ship?
We will ship your order using the fastest, safest, and most reliable method possible. Therefore, we have established strong relationships with some of the best delivery companies nationwide. Every product on our site has been carefully selected to ship by a particular shipping method in order to provide you with an optimal delivery experience. When your order ships, we will notify you via email. Tracking Number can be found on the custom interface, We encourage you to track your package online or on the phone with the carrier. Most companies can provide an estimated delivery date. Be sure to contact us if anything seems unusual with the progress of the shipment. Please note we cannot ship to P.O. Boxes or Military APOs.
What is the return policy?
Returning merchandise is always inconvenient, expensive and no fun for any party involved. That is why we are trying to avoid returns by making sure our customers understand what they are ordering right from the beginning.
Please read item descriptions, supporting information and FAQ carefully. We offer unique products and try to provide our customers with most detailed description possible upfront. Please take advantage of our product sample programs.
Please visit http://www.art3d.com/return-policy/ for detail.
What is the payment method?
We accept PayPal payment. Supports Visa, Master card, American Express, Discover and more, it is the faster, safer way to pay.
Other than Paypal payment, we also accept TT transfer, West Union Transfer, Alipay and Wechat transfer, please contact us if needed.