Product Parameter
| | |
| --- | --- |
| Design Code: | A06003 |
| Size of Tile: | Around 2.59ft x 2.28ft (79cm x 69.5cm) |
| Thickness: | Around 10 mm (0.39") |
| Principal Ingredients: | PE-LLD |
| Nominal Finish: | White |
| Gross Weight: | 0.21 Kg |
| Standard Packaging: | Carton box package |
| Customization: | No |
| Notes: | Patterns, photos and drawings are for illustration purposes only. Final production may vary. |
Product Features
Easy DIY peel and stick tile concept of peel and stick 3d wallpaper is made of an adhesive substrate topped with a environmental PE-LLD material, the embossed 3d wall sticker offers stunning visual impact. the tiles are light, water proof, anti-collision, they can be installed in minutes over a clean and sleek surface without any mess or specialized tools, and never crack with time. Peel and stick 3d wallpaper is also an economic wall covering material, it is an ideal material to remodel your wall, if you are getting tiled of the same design, just peel them off and change a new style. Our 3d wall paper offers veracious collections to meet you different taste. Peel and stick 3d wall paper is lightweight, easy to handle, cut and maintain, they will remain on your walls for as long as you wish them to be. The tiles can also be easily installed directly over existing panels or smooth surface. The tiles are resistant to the heat and the humidity of bathrooms (do not use in fire environment).
Peel and stick 3d wall
Do it yourself, easy cut and trim, no grout, no glue, no special tools and no mess
Lightweight and thin, easily installed directly over existing panels or smooth surface
Can be used in almost every where except fire environment (this material is not fire-resistant)
Guaranteed to stick to your walls
Peel & Stick Wallpaper Brick Design Product Details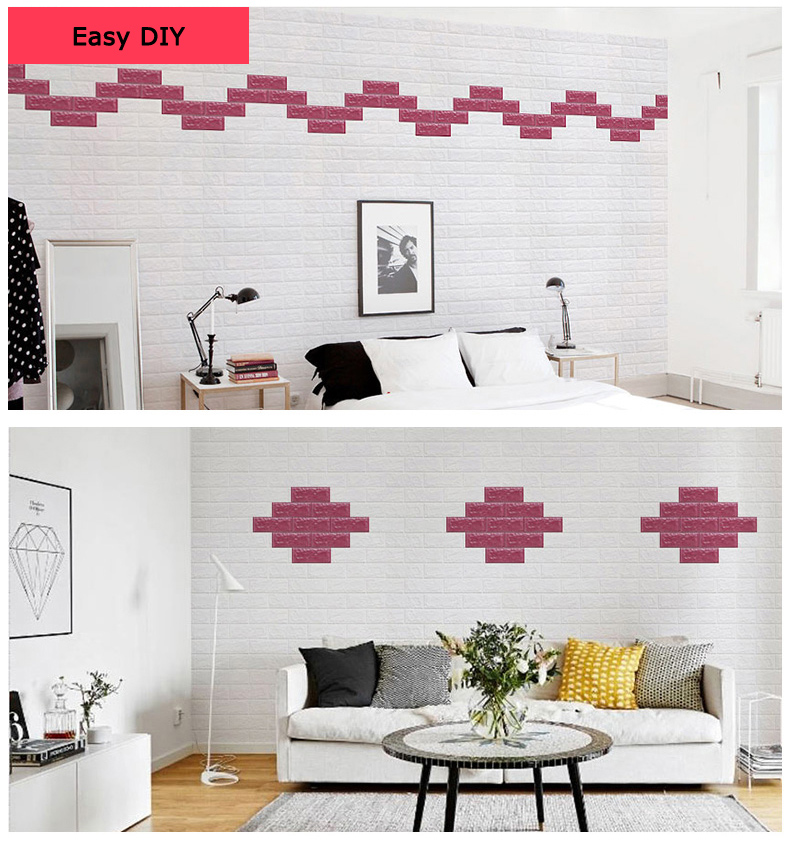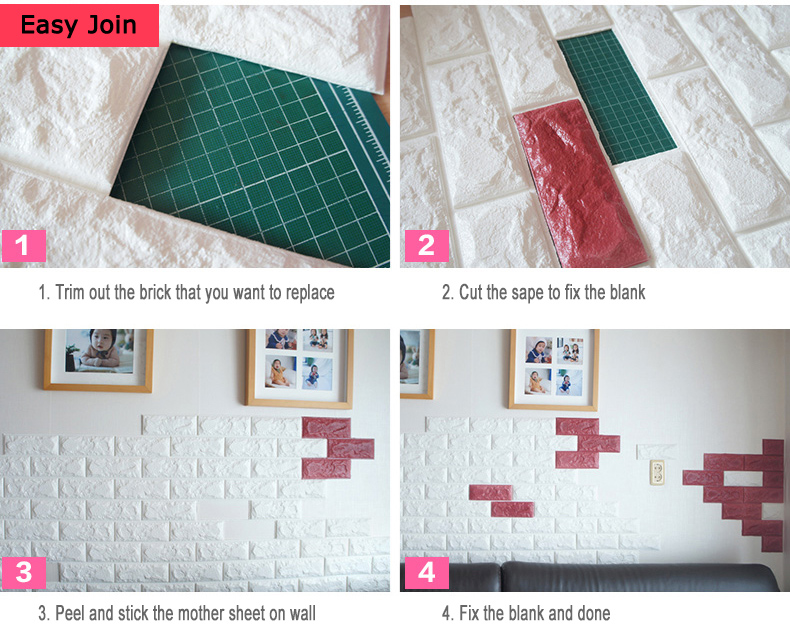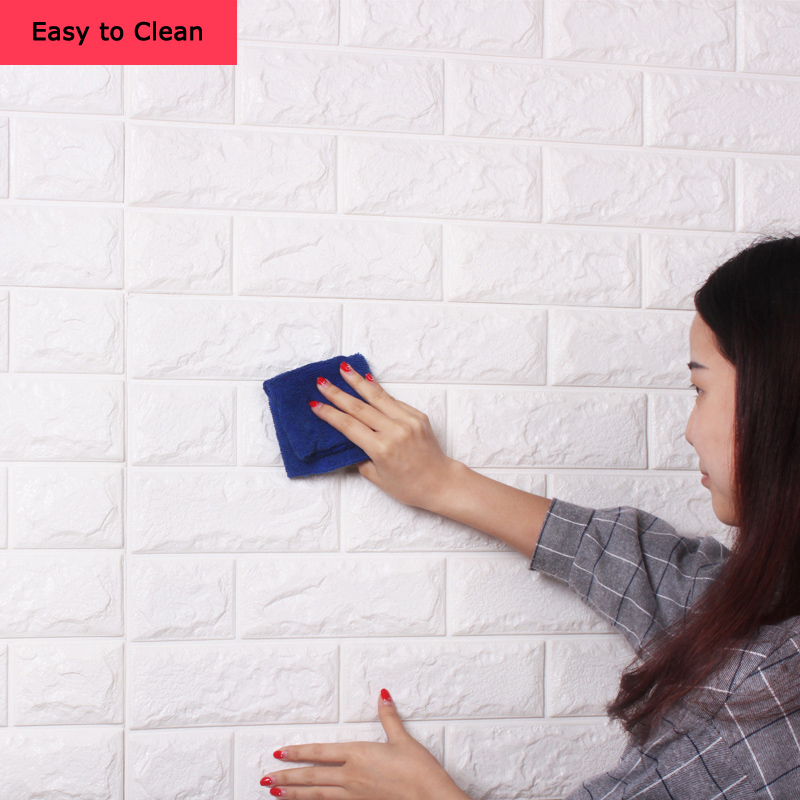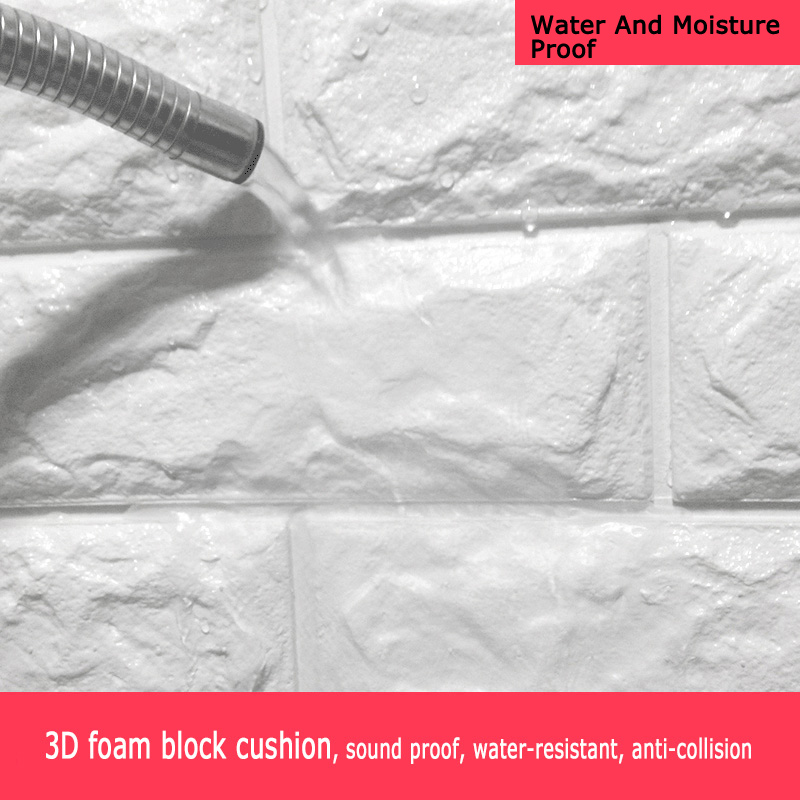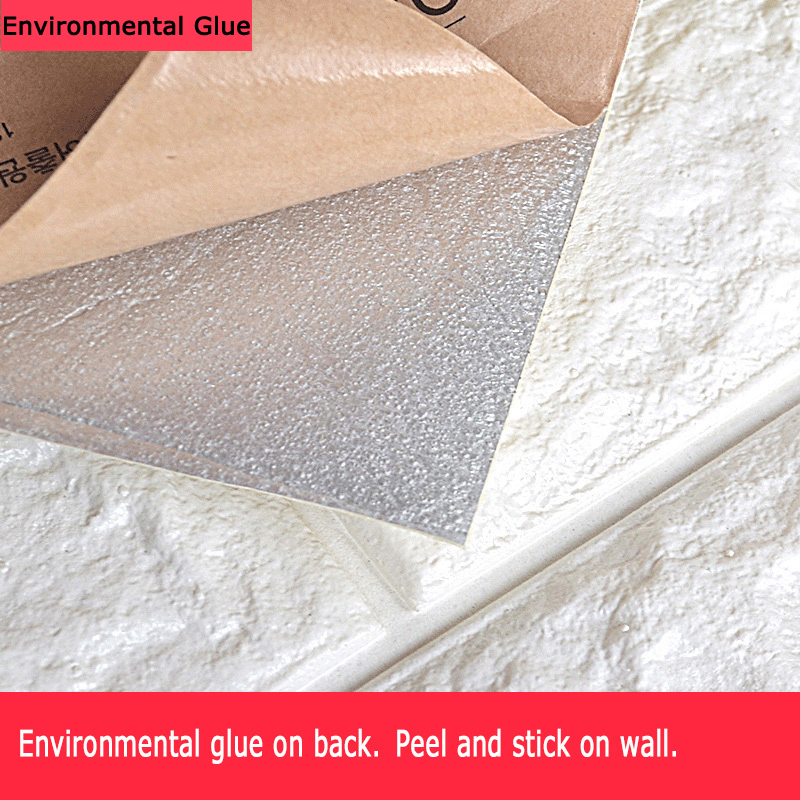 Color Option

Installation Guide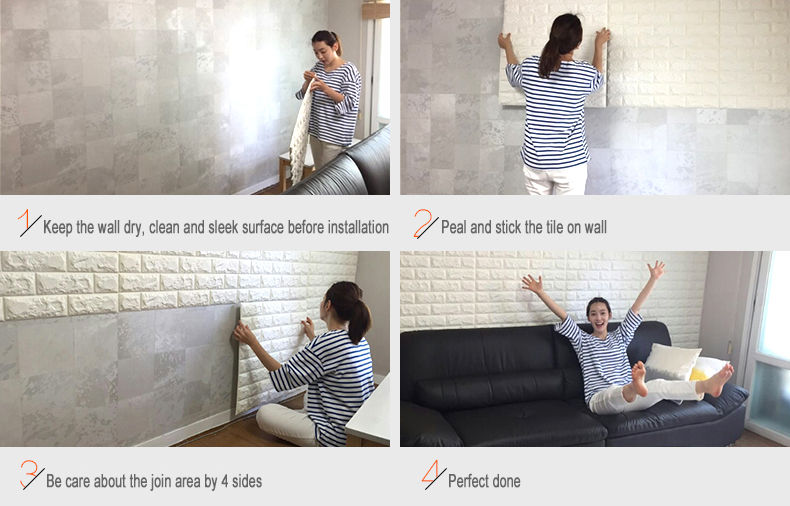 Before and After Comparison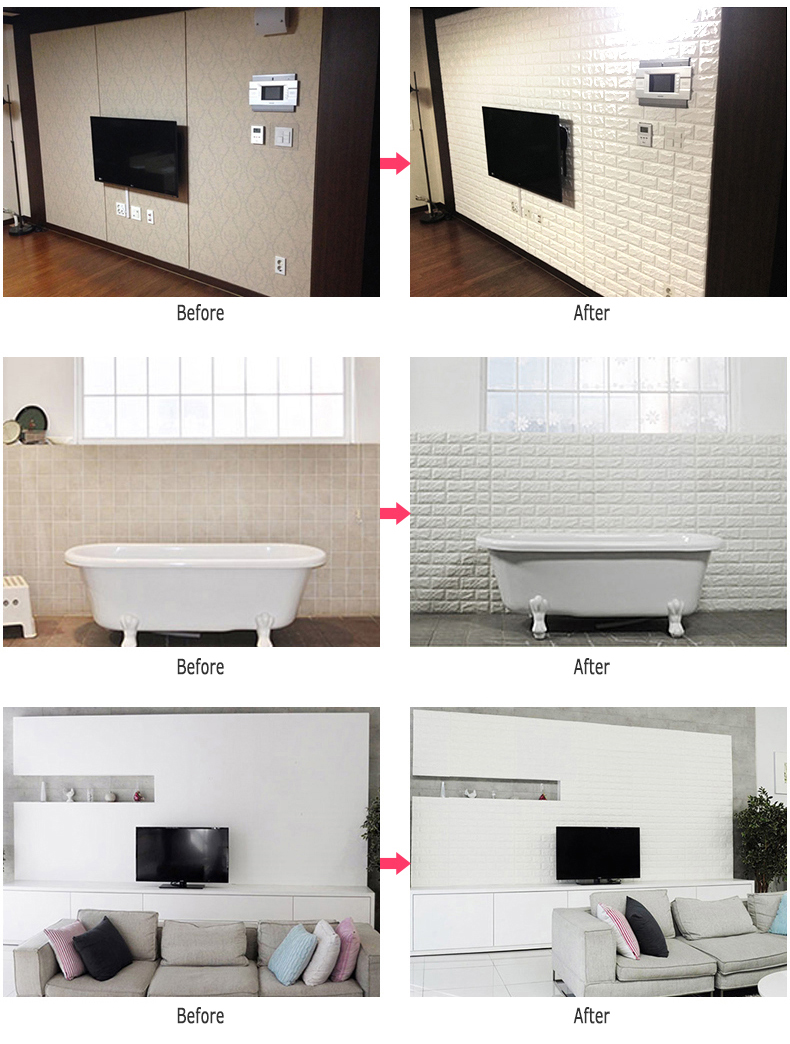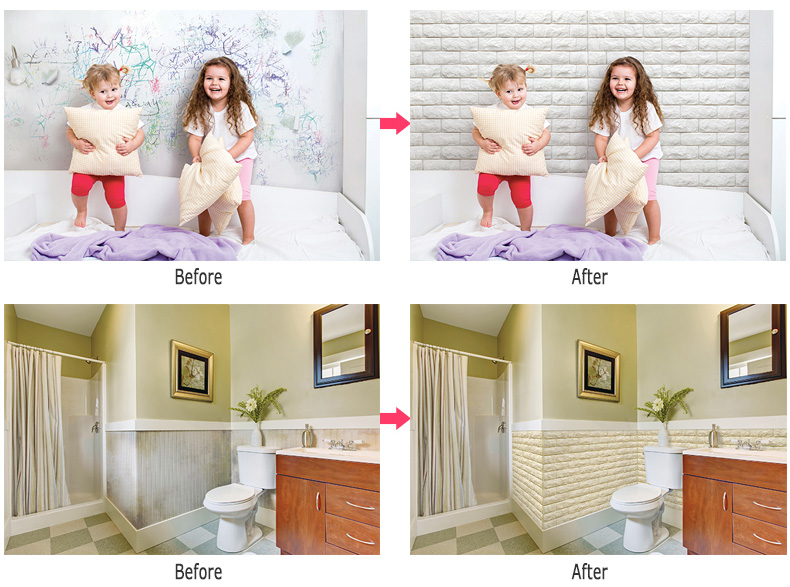 Peel & Stick Wallpaper Brick Design Application
Peel & stick wallpaper brick design is ideal wall covering product that can be used in interior or exterior decoration (but not recommend to use in exterior environment), it can be used in wet environment such as bathroom and kitchen room, but please don't use in fire environment such as kitchen backsplash, it can be stick on wall or remove easily. Other than that, Peel & stick wallpaper brick design can also use in glass door or screen decoration, or cabinet door remodeling. Note: please note that peel & stick wallpaper brick design is not fire resistant
Customer Review
Contents: Love this! very very easy to put up onto the wall and has a 3 dimensional texture. It looks great and have received many compliments and from professional decorators as well.

Rosa @Mar 22, 2017 United States
Contents: I want to cover everything in this stuff!

amy bentley @Mar 14, 2017 United States
Contents: I used this as a coverup on the wall between kitchen cupboards and countertop. Wall was cracked and badly patched previously, so it always looked bad and was hard to clean. I had always wanted to tile this area, but I never had the time or the money to do do. This was a very quick and cheaper alternative, and looks great! This material is like a plastic covered foam (foam for 3d effect), and is very easy to clean. When people come over, they can't believe it's not real brick. I had read to cut out bricks at the end and "interlock" pieces to prevent seeing seams in the grout edge, and I'm glad I did that! It looks seamless, but make sure that you have a pack of xacto blades as the material dulls the blade quickly (and you need a SHARP BLADE to cut through the textured foam). Initially, I had bought a sheet from a different vendor, and liked the look, so I ordered more as I didn't have enough to do the entire wall. I would recommend getting it from this seller/vendor over the first I purchased as this one shipped without folding it (which put creases in the other product!). This vendor (with 2.6x2.3 foot panels) ships it without folding it.

Sharon A. Orienza @Feb 18, 2017 United States
Contents: These are very cool looking. I thought they would look very fake. They do not. I also like that they are foamy feeling.

Gracem @Feb 14, 2017 United States
Contents: I loved itb

@Dec 31, 2016 United States
Contents: A very nice product! It looks great, I get so many compliments.

Donald @Dec 14, 2016 United States
Contents: Fast delivery, good products, love them.

@Nov 27, 2016 United States
Contents: Soft and light material, very easy to install to the wall.

Nataisha @Nov 23, 2016 United States
Contents: Great price and simple to install.

Jacy @Nov 17, 2016 United States
How Will My Order Ship?
We will ship your order using the fastest, safest, and most reliable method possible. Therefore, we have established strong relationships with some of the best delivery companies nationwide. Every product on our site has been carefully selected to ship by a particular shipping method in order to provide you with an optimal delivery experience. When your order ships, we will notify you via email. Tracking Number can be found on the custom interface, We encourage you to track your package online or on the phone with the carrier. Most companies can provide an estimated delivery date. Be sure to contact us if anything seems unusual with the progress of the shipment. Please note we cannot ship to P.O. Boxes or Military APOs.
What is the return policy?
Returning merchandise is always inconvenient, expensive and no fun for any party involved. That is why we are trying to avoid returns by making sure our customers understand what they are ordering right from the beginning.
Please read item descriptions, supporting information and FAQ carefully. We offer unique products and try to provide our customers with most detailed description possible upfront. Please take advantage of our product sample programs.
Please visit http://www.art3d.com/return-policy/ for detail.
What is the payment method?
We accept PayPal payment. Supports Visa, Master card, American Express, Discover and more, it is the faster, safer way to pay.
Other than Paypal payment, we also accept TT transfer, West Union Transfer, Alipay and Wechat transfer, please contact us if needed.