KN95 Safety Mask: Comply with GB2626-2006 KN95 standard mask. Its filtration efficiency (dust-removing rate) is more than 95% for non-oily particulate matter above 0.3 microns, allergens, pollen, pet hair and dander, leaves, grass clippings, smoke and more
Soft and Comfort: The anti-pollution mask is made of high quality non-woven fabrics, which has excellent permeability, very soft and breathable. Inner layer is made of soft facial tissue, no dye, gentle to the skin
4-layer Filtration Design: This KN95 face masks are vacuum sterilized, their non-woven fabrics provide additional protection and insulation as they especially act as filters and bacterial barriers. KN95 mask is a real breathing mask/respirator, it can filter particles in the air very effectively
Comfortable to Wear: KN95 dust-proof masks with adjustable nose line to ensure a perfect fit. Extra-soft elastic earloop design eliminate pressure to the ears, suitable for most of man and women's face. You will benefit from comprehensive protection if worn correctly
Using Standard: Can be used for 3-5 times normally. However, in the case of dense crowds or severe environmental pollution, it is best to use it only once, it depends on the personal use situation and environment. But if it is uncomfortable or difficult to breath, or the mask is stained with foreign objects, or the mask is damaged, it needs to be replaced immediately
Note: Can't use the face masks for medical purposes and to warn any third party against using the face masks for medical purposes. We are not liable for any losses caused by the inappropriate use, maintenance or keeping of the face masks by the buyer or any third party.
Shipping: Fedex International Priority from Guangzhou China (3 - 7 business days delivery*), or USPS from Missouri United States (3 - 4 business days delivery)
*Potentional delay due to random Custom Check, delivery time may vary and not guaranteed if this happens.
Masks Standard Reference
| | | | |
| --- | --- | --- | --- |
| Filtering Effect | CN | USA | EUR |
| ≥95% | KN95 | N95 | FFP2 |
| ≥99% | - | N99 | FFP3 |
| ≥99.97% | KN100 | N100 | - |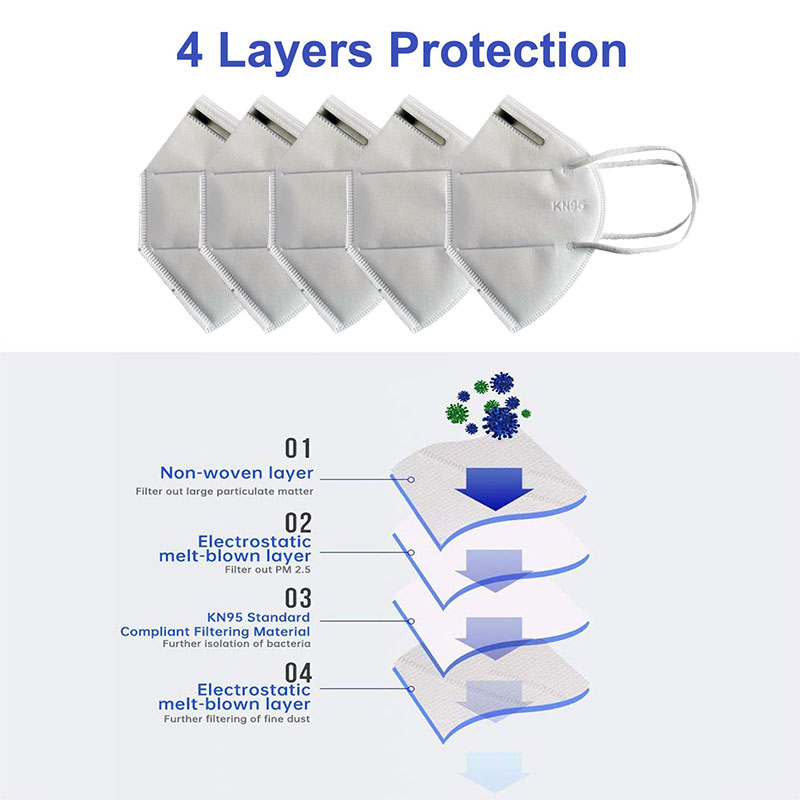 Customer Review
Contents: I placed an order of 3 sets of these masks. I received a tracking number for the shipment and my credit card had already been charged. After checking with FedEx every day, I finally learned that the masks were rejected for clearance from China, of which now i see on this site they're advertising coming from the US. The shipping label had been created but nothing has been received. I left messages and emailed about my order, and haven't heard back from anyone still. I've ordered other masks from here before and received without any issues, but the KN95's seem to be a problem. It would be great to get an update on what has happened or refund my money.

Step @Jul 20, 2020 United States
Contents: These masks are perfect! It was also so nice of them to send me extra masks when my order was dellayed for almost a month. Thank you. By the way I'm on my third order order from this company.

@Jul 09, 2020 United States
Contents: As described

@Jul 07, 2020 United States
Contents:

Stepat @Jul 02, 2020 United States
Contents: The masks are as described it just took very long to receive

Peet @Jun 23, 2020 United States
Contents: I did not receive my order so I emailed the customer service department. It was replaced and mailed to me very quickly. Thank you for your out of this world customer service. The masks are high quality and individually packaged. This is the second set of the same masks I bought a couple of months ago. I'll definitely buy here again when I need more masks.

Liz @Jun 11, 2020 United States
Contents: The product are individually packed nicely. The shipment first time was sent through usps and was delivered in mailbox. I went and checked it wasnt there ! I raised a ticket with usps and didnt get any response as expected. When I contacted Art3d they immediately sent me a replacement mask without any cost and immediately. Really appreciate taking care of the issue and also prompt shipment.

Venky @May 29, 2020 United States
Contents: Had a problem with shipping, not sellers fault. I contacted them and they responded in record time. Very impressed. They shipped out new masks and they arrived right away. They look like the picture and I am sure they are exactly has promised. If you are not sure who to order from, this seller is legit and stands behind what they sell. My only negative was the high price, but like most things in life you get what you pay for.

Ahardrain @May 27, 2020 United States
Contents: My order of KN95 masks arrived quickly. The product is as described and appear to be of a good quality.

Ginnie @May 19, 2020 United States
Are they safe? How are they come in, with what package?
The face masks are made in China, and they got the certified from FDA&CE, sealed in box, each order has been attached FDA certification to get through US customs, they are safe, healthy and legit product, and virus CAN'T spread through objects.
We have different masks from different manufactures; the package may vary due to the different brands of the masks.
Where is mask ship from? US or China?
Why did they ship from China? Why r they so expensive?
We have to ship them out from China if we do not have enough inventory to fulfill a large number of demands for the masks from our Missouri warehouse, they are the same products. The transportation time by FedEx from China may take 3-5 business days. The shipping cost and the product quality is the reason why we sell at this price. We cannot say our price is the cheapest; the only thing we can guarantee is that the product is safe and ready to protect you and your family.
What KN95 is for?
It serves the same propose as N95 masks do. KN95 is a little bit thick, the biggest feature of this type of mask is that it can prevent droplet infection caused by patient's body fluid or blood splash.
What are the cancellation and return policy for the mask order?
Cancellation policy: The order quantity on mask orders increases dramatically due to the high demand recently. To ensure that each of our customers' orders can be issued quickly and efficiently and to let our staff can pay more attention to help the customer who needs the masks ship out fast. We are not going to accept the order cancellation request after the order has been shipped out at all mask orders. Please consider carefully before place an order.
Return Policy: We will accept returns of full box unused in its original condition and packaging within 30 days of receipt.
- Please contact info@art3d.com to request a return. Please include your order ID in the Subject Line (for example "Return request for Order ID XXXXXXXXXX").
- The recipient will be responsible for return shipping costs and taxes(if any).
- Because refunds will not be issued in full for items damaged in return shipping or returns that are never received, we highly recommend that you insure all return shipments and provide ART3D with the shipment tracking number.